WE ARE YOUR SOURCE FOR FISHING DESTINATIONS IN ALABAMA!
Summer Crappie on Logan Martin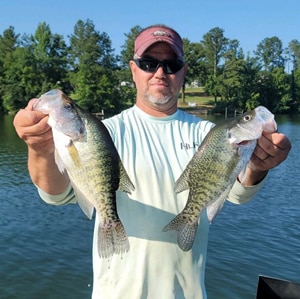 When water temperatures peak during summer, crappie become a mystery to many anglers. Here is how successful guide and tournament angler Ryan Willis mastered warm-water crappie.
By Eileen Davis
"From mid-July through September," says guide Ryan Willis, "crappie fishing is tough. The summer bite is inconsistent and varies from day to day."
Depending on the season and conditions, Willis guides on Lake Eufaula, Neely Henry, Logan Martin, Lay, and Mitchell lakes. During summer when water temperatures exceed 85 degrees, he restricts his trips to Logan Martin. It's where Willis sinks brush piles to attract fish.
Willis continued, "Look for crappie 15 to 25 feet deep on points, humps and channel breaks off the main lake. Search inside and outside bends of submerged creek and river channels. Bridge pylons and docks are also good if they are in water at least 15 feet deep.
"In my opinion, side-scan sonar is an anglers most important tool for crappie fishing. When I am scouting new locations to fish, I set the range to search between 75 and 100 feet on both sides of the boat. If it's an area where I know there are brush piles, I set the range between 65 and 75 feet."
When a promising brush pile is spotted, most anglers mark it with a buoy.
With the precision afforded by forward-facing sonar, and when needed due to a variable wind changing the boat's position, Willis pinpoints the spot using a slip cork rig without a hook. It shows his clients where to fish, and when it's time to leave, Willis simply reels in the slip cork.
To catch fish, Willis' clients tempt bites with 1- to 1¼-inch minnows fished under slip corks. "In summer," he said, "small minnows produce better than large one."
To assemble a slip cork rig, Willis first ties a slip knot on the main line as a bobber stop. He then threads 6-pound-test K9 Hi-Vis Fluoro through a bead followed by a Thill Pro Series Slip Float. Below the float goes an 1/8-ounce egg sinker before tying on a swivel. The other end of the swivel gets a 12-inch leader of the same 6-pound line and a size 6 gold Aberdeen hook. The rig is fished on a Classic Outlaw 7-foot, 2-inch spinning rod.
"So as to not spook fish with the trolling motor," Willis said, "I keep the boat about 15 feet from the brush pile. And to not spook fish holding in the brush pile, it's important to catch the fish highest in the water column first.
"This time of the year, start fishing 15 feet deep. Fish for a few minutes, then adjust your float to fish a foot or two deeper. Repeat this sequence until you reach the bottom.
"During summer, I usually catch the biggest fish on the bottom or off to the side of the brush pile."
Willis says that this technique for warm-water crappie usually produces 30 fish on a morning trip.
When Willis fishes alone, his go-to lure is a 1/24-ounce Eye Hole hair jig in purple rain or money colors. He fishes it on 6-pound-test K9 Hi-Vis Fluoro line with a 5-foot, 8-inch Outlaw Classic spinning rod.
 "You are not going to catch as many crappie on a jig during summer, but the ones you do catch are usually going to be quality fish. The addition of a crappie niblet inserted into the eye of the jig will attract fish that are reluctant to bite. Occasionally, you will catch a 15- or 16-inch crappie."
Whether fishing jigs or minnows, Willis says the best fishing conditions are current and rain.
"Rain and current help fishing tremendously," he said. "Both lower the water temperature, which increases the oxygen level and turns the bite on.
If it's a good rain, the improved fishing may continue for a couple of days."
To book a guided fishing trip with Ryan Willis, contact him at (334) 718-0194 or visit his Facebook page at Hog Wild Crappie Guide.
Click here to read more about how successful anglers find and catch Bama's fish.