WE ARE YOUR SOURCE FOR FISHING DESTINATIONS IN ALABAMA!
May Patterns for Lake Jordan's Bass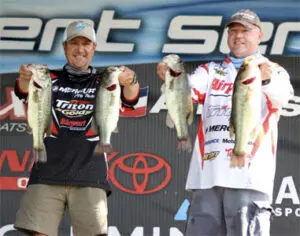 Two-time Alabama Bass Trail Angler of the Year Chris Rutland reveals winning patterns for finding and catching Lake Jordan's bass.
By Eileen Davis
Located a few miles north-northwest of Wetumpka, Lake Jordan stretches for 18.4 miles and consists of 6,900 acres with 188 miles of shoreline. The lake offers excellent fishing for both largemouth and spotted bass. Fisheries biologists report Jordan has the fertility, forage and growth rates to make it a top lake for Alabama.
One fisherman who has repeatedly demonstrated his ability to find and catch bass on this Coosa River lake is winning tournament angler Chris Rutland of Wetumpka. He has fished tournaments for more than 30 years and has amassed an enormous number of wins. Rutland has also earned the title of Alabama Bass Trail Angler of the Year twice.
He credits his success to being enthusiastic and determined about finding and catching fish. Rutland says the key is knowing with certainty that the fish are always biting somewhere on the lake. Fortunately for FishingBama, he agreed to reveal his winning patterns for May.
Rutland's patterns are either shallow or deep and depend on the time of day and the shad spawn.          
In early May when shad are spawning, Rutland fishes the spawn by targeting spotted bass feeding on the main-lake seawalls or largemouth busting shad in the water-willow. He works the seawalls with a bladed jig rigged with a Big Bite Baits Swim on Trailer and the grass with a Davis Bait Swim Jig rigged with a Big Bite Baits Kamikaze Craw.
From 7:30 until 11:00, Rutland notes a lull in fishing activity. He says your best bet to catch fish during this time is by fishing deep structure.
"There is always a good deep bite in May on Lake Jordan," Rutland said. "Those fish bunch up on structure with a hard bottom 10 to 12 feet deep. If you get bit, you may catch up to 10 fish from one place.   
"I use Humminbird side-scan sonar to look for any irregularity on the bottom at those depths, such as a hump, the end of a point or a creek channel swing. The most important factor is a hard bottom. It does not need trash or bushpiles to hold fish."
Rutland continued by pointing out the fish are on the bottom and the most effective lures in this situation are a Spro Fat Papa 70 and a Big Bite Baits Suicide Shad.
After the midmorning lull, he returns to the bank.   
"When the sun rises high in the sky," Rutland said, "shade positions spots under boat docks, and it positions largemouth under grass mats. The largemouth stay under the grass until the water temperature gets hot, usually in July." 
He works the matted grass by flipping a jig rigged with a Big Bites Baits BFE creature bait, and he uses a Big Bite Baits Fat Stick for skipping docks.
When the shad spawn ends, Rutland says the spots that had remained shallow move deep, but it's still possible to catch largemouth in the grass using the same patterns as in early May.
"The spots are now 10 to 15 feet deep on the same type of bottom structure," Rutland advised. "You can catch them at daylight and all day long. Hit a dozen places and a couple will hold nice fish."
In May, Rutland says anglers can expect to catch fish weighing 2 ½ to 3 ½ pounds, with an occasional 5 pounder.
He said the best fishing for largemouth bass on Lake Jordan is from a mile above Blackwell's slough to the dam.
Read more about how successful anglers find and catch Bama's fish.