WE ARE YOUR SOURCE FOR FISHING DESTINATIONS IN ALABAMA!
Find Big Crappie on Lake Eufaula using Garmin LiveScope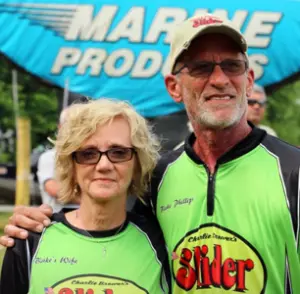 Professional tournament angler Blake Phillips uses the latest technology and lures to catch big crappie on Lake Eufaula with a pattern that produces year-round.
By Eileen Davis
"If you find a submerged tree on Lake Eufaula," said Blake Phillips, "with the top half broken off and laying at an angle to the tree, you are in the money!"
Phillips is a professional tournament angler who has won on Lake Eufaula. He is also an inventor and patent pending holder for Eye Hole Jigs, which hold attractant niblets. This former fishing guide, who now lives in Dothan, grew up on White Oak Creek and has fished the lake for 50 years.
 Stretching 100 miles on the Chattahoochee River from just below Phenix City, Alabama to Fort Gaines, Georgia, Lake Eufaula covers 45,181 acres of prime crappie habitat. The lake features plenty of creeks, flats, stumps, timber plus 640 miles of shoreline.
In addition to trees with broken tops, another one of Blake's favorite types of cover are trees laid over by current. These are not laydowns, but trees that lie at an angle to the bottom. 
"If you find a big old oak that has fallen over, and the branches are still intact, it's your honey hole. I think the trees create shade, form a current break and provide protection from predators. When there is current, crappie stack up behind big trees.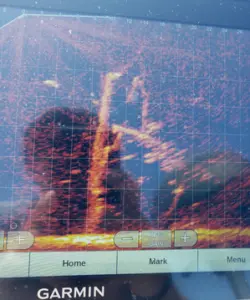 "If you find a big old oak that has fallen over, and the branches are still intact, it's your honey hole," Blake said.
How to Find and Fish Trees
According to Phillips, not just any broken or laid over tree will hold crappie. The best trees are near the main river channel.
"Start your search," he said, "about 100 to 200 feet off the main river channel with your side scan set to 150 feet. Laid over trees within 100 feet of the channel hold the most crappie. Occasionally, you will find a tree with big fish. In summer, a I ½ to 2 pound crappie is a good fish."
Once Phillips has found and marked a promising tree, he relies on his i-Pilot Link Integrated GPS Trolling System to take him to the tree. i-Pilot Link enables his Humminbird fish finder to communicate with his Minn Kota trolling motor. 
"As the trolling motor is navigating back to the tree," Phillips said, "I put my LiveScope transducer in the water and get my rod ready. The trolling motor and fish finder let me know when the boat is 50-feet from the tree. (Phillips sets the casting rings on his Humminbird navigation menu to a 50 foot circle.) So I start slowing down as the Humminbird is counting down the distance to the tree. With LiveScope set to a distance of 50 to 60 feet, I can see the fish. Next, I slow the boat to a crawl to determine how the current is going to affect my boat position. When I feel comfortable, I move about 30 feet from the tree, hit Spot-Lock to anchor the boat, and then reduce the distance on the LiveScope.
Thirty feet gives me plenty of room to work the fish, and I can see what the fish are doing. The most important thing is boat position. When I get the boat position just right, I cast to the tree, and let the bait slowly sink to where the fish are holding. Then it's just a little twitch twitch and boom they just nail it.
"With LiveScope," Phillips continued, "you can watch your bait fall into the school. The slower it falls the better."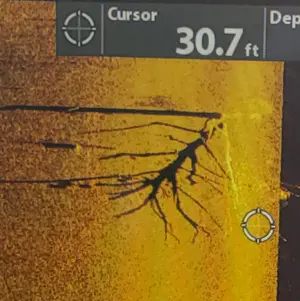 A side scan image of a tree laid over by the current with a school of crappie holding on the upper half of the limbs.
Lures
The lightest jig this crappie champion uses to fish broken and laid over trees is a 1/24th-ounce Eye Hole Jig with a No. 4 sickle hook rigged with either a Panfish Assassin or a Charlie Brewer Slider Grub. His go-to colors are glacier, baby shad, Tennessee shad, and electric chicken. For jig head colors, he recommends pink or chartreuse for clear water and bright orange if it's muddy.
Phillips downsizes his lures when fishing Lake Eufaula.
"The baits anglers use in summer are too big," he advised. "Eufaula has a lot of black crappie, and black crappie like small baits. Don't fish with anything bigger than 1 1/2 inches."
When filling the hole of the Eye Hole Jig with scent, Phillips recommends the tried and true Gulp or Powerbait by Berkley, but he also recommends one other scent.
"I really like Slab Bites by Crappie Magnet," he said. "They are more affordable, a little stiffer and hold up better."
 Phillips fishes jigs on high-visibility 4- or 6-pound-test-monofilament line.
Lessons Learned Using Livescope
"Before LiveScope," Phillips said, "I trolled crankbaits. We would pick off the bigger fish here and there. With LiveScope, I have found that big fish on Eufaula are loners. If I see a school of crappie on a tree, I look around using LiveScope. Sure enough, I will see a big fish suspended off to the side of the school. He will not be in that mix. Using LiveScope, you can target big fish."
Phillips said you can find productive broken and laid over trees next to the main river channel at most depths, but the depth of the fish depends on ambient light and water clarity.
"With LiveScope," he said, "when the sun comes up you can see them move down the tree and even into the root system or the branches where the tree has fallen down. Though, even on sunny days,  some fish will suspend about 6 feet deep."
Phillips says anglers will find that this pattern works year round.
In addition to his website, Phillips has a Facebook page.
Read more about how successful anglers find and catch Bama's fish.