WE ARE YOUR SOURCE FOR FISHING DESTINATIONS IN ALABAMA!
Top Fall Pattern for Striped Bass on Lake Martin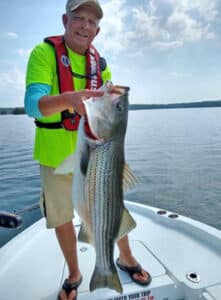 Chilly temperatures and a changing season trigger a must-eat attitude in stripers on Lake Martin. If you are ready for fast action, use this pattern to catch all the fish you can handle.
By Eileen Davis
Master striper guide David Hare's go-to pattern on Lake Martin from November to January is to fish livebait on downlines. As water temperatures cool, he says the striper bite gets better and better.
"This is my favorite time of the year for catching numbers of fish," Hare said. "On a good day, we catch 60 to 70 fish. On a six-hour fishing trip in fall, we average 30 to 40 fish weighing 3 to 12 pounds. It's nonstop fishing!"
Finding Fish
Since the illegal introduction of blueback herring into Lake Martin, finding schools of striped bass has become more difficult. Before herring arrived, stripers thrived on shad, which follow predictable behavior patterns.
"Striped bass love to eat blueback herring," Hare said. "Herring prefer deep water, and they are nomads. They roam open water without direction. For this reason, herring has completely changed the striper fishery, and stripers are much harder to find.
"While the location of the stripers are ever-changing, they do relate to anything that has an abrupt change in depth, places where contour lines are close together on the map. Look for points, humps, and submerged river channels with tightly stacked contour lines.
"This is easy to do with a Lakemaster map by selecting the depth highlight range feature. By setting the depths of the contours, it will allow you to see abrupt changes at a glance. For example, if you set the range to include the depth from the top of the river channel to its bottom, areas where the color narrows have a steep drop off."
To locate schools of stripers, Hare sets his Humminbird Helix 12 to split screen with traditional sonar on one side and Lakemaster charts of Lake Martin on the other. He idles over promising submerged terrain features at 6 mph. When the sonar reveals fish, Hare slows to 2 mph, sets the Helix to full screen and switches to down imaging. With the striper school pinpointed, Hare deploys his Minn Kota Ulterra trolling motor and hits spot lock to hold his boat's position over the schoolies.  
Catching Fish
To catch fish, Hare sets out six rods with downlines. Depending on the size of the fish, he uses two different rods. For big fish, Hare's tackle is a 7½-foot, medium-heavy action Ugly Stik Catfish rod paired with an Abu Garcia 6500 Ambassadeur reel. He spools the reels with 20-pound-test monofilament line. For smaller stripers, Hare downsizes to a 7½-foot, light-action Classic Pro Striper rod by Okuma. This rod sports an Okuma Cold Water CW-203D line-counting reel filled with 14-pound-test monofilament line.
The main lines are threaded through 2- or 3-ounce egg sinkers. "Select a weight that keeps the lines vertical in the water," Hare said. "If we have a lot of wind or current, it is necessary to use a 3-ounce sinker."
Hare rigs both rods Carolina style with 24-inch leaders of 20-pound-test fluorocarbon line. To finish, Hare chooses a hook size to match the size bait he is using. The guide stocks a selection of Mustad Demon offset circle hooks in sizes from 1/0 to 10/0.
Livebait
"Another change brought about by blueback herring," Hare said, "is that stripers have become conditioned to eating smaller baits. In fall, I still catch shad with a cast net, but I also buy 2- to 3-inch shiners and Black Saltys at the River Bend Pure Station at the Highway 280 Bridge. Spot tail minnows also catch stripers in fall and are easy to catch using minnow traps baited with crackers or vanilla wafers.
"It is important to have a selection of baits. The biggest bait I'll use in fall are shad about 9 inches long and weighing 1/2 pound."
To book a guided fishing trip with David Hare, call or text him at (256) 401-3089. For more information about his guide service check out his Alex City Guide Facebook page or its sister webpage. He can accommodate up to 40 anglers.
To plan your visit, event or to see upcoming events, the Explore Lake Martin website has everything you need.
Click here to read more about how successful anglers find and catch Bama's bass.