WE ARE YOUR SOURCE FOR FISHING DESTINATIONS IN ALABAMA!
Tucker Smith's Favorite Pattern for Bass on Logan Martin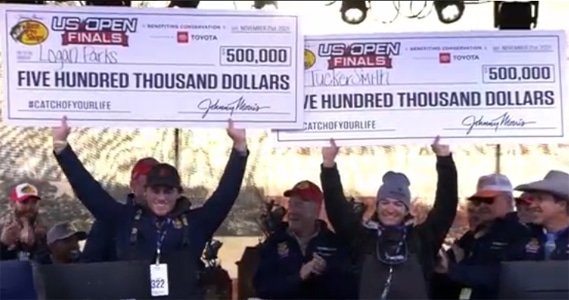 In March, fishing for spotted bass on the Coosa River offers fast action! Here's Tucker Smith's pattern for catching bass on Logan Martin.
By Eileen Davis
"When water temperatures on Logan Martin warm into the high 50s in March," said Tucker Smith, "bass on Logan Martin become predictable. The fish move to shallow staging areas preparing to spawn. It's just a good time to fish."
Successful tournament angler, Tucker Smith learned and perfected this and other patterns while growing up on Logan Martin. It has served him well. Smith won three consecutive Bassmaster High School Championships, then joined Auburn University's fishing program to win tournaments and rise to Carhartt Bassmaster Series Team of the year with partner Logan Parks.
Smith and Parks also won the first Bass Pro Shops U.S. National Bass Fishing Amateur Team Championship, to split the biggest payout in bass fishing history: one million dollars, two Toyota Tundras, and two Nitro Z21 boats.
Sandwiched between Neely Henry and Lay Lake, Logan Martin is the third lake on the fertile Coosa River. It covers 15,263 acres and stretches for 48.5 miles from dam to dam.
LOCATION
"I target shallow clay flats and points from 1 to 6 feet deep," Smith said. "These areas have a hard clay bottom that warm up first. Pre-spawn bass stage on the flats and points to feed and develop their eggs.
"Coosa River bass, especially spotted bass, are conditioned to feed when there's current. When water is flowing through one or both dams, it pushes bait across these places to the waiting fish. Bass stage on main lake and secondary locations, but in past years, I have found flats and points on the main lake to be more productive. Additionally, as the water warms, bass may spawn in these areas."
Depending on the conditions in March, Smith says anglers win tournaments throughout the lake. The primary condition being current.
Smith continues, "Springtime brings rains, and often creates perfect conditions on one section of the lake. I look for current and dirty water. When the water is stained, bass seem to stack up. Find the right combination of current and water color, and it's possible to catch 20 bass from one spot. However, when the current is too strong, it results in poor fishing on the upper section of the lake."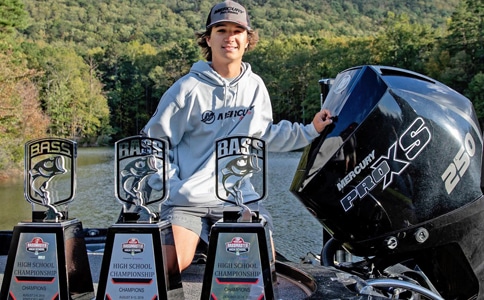 LURES
To fish Smith's pattern, anglers only need two lures: a bladed jig and a jerkbait. His favorite lure is a chartreuse and white 3/8-ounce Shock Blade by Picasso. He dresses it with a swimbait trailer. Smith's other lure is a shad colored JerkMaster Jr. by Livingston Lures.
"I throw the Shock Blade," Smith said, "on a 7-foot, 3-inch medium-heavy action rod with a 7:1 gear ratio reel. I prefer to cast the jig on 15-pound fluorocarbon for its sensitivity and casting distance. However, if I am fishing around cover, I switch to 17-pound fluorocarbon. Fish the Shock Blade with a slow retrieve so it remains close to the bottom."
Smith keeps a jerkbait on deck for when the bladed jig fails to produce. He has an added twist to presenting the time-tested lure in shallow water. While retrieving the jerkbait, Smith has the lure making contact with the bottom.
"There's just something about the bill on the jerkbait digging into the clay," he said, "that produces big bites and heavy bags. Bass hate it jumping around on a clay bottom. You will need a jerkbait with a strong bill for this technique.
"My jerkbait setup is 6-foot, 9-inch medium-action rod with a 6:1 ratio reel spooled with 12-pound fluorocarbon line. This ratio reel allows one crank of the reel every time you jerk, so you are ready for the next jerk."
Regardless of which lure Smith is throwing, when he catches a fish, he repeats the cast. "There is not just one bass sitting up there," he said.
Play this pattern right, and Smith says you could catch 20 fish from one spot.