WE ARE YOUR SOURCE FOR FISHING DESTINATIONS IN ALABAMA!
Stinging Cold and Shallow Crappie on Big G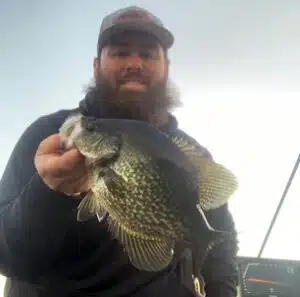 Whether you're a seasoned pro or a first-time angler, Lake Guntersville offers a winter crappie fishing experience that is second to none.
By Eileen Davis
Are you ready to experience the thrill of catching crappie on Lake Guntersville during the winter months? It may be cold outside, but the fishing on this Alabama lake is red hot! Anglers who are willing to brave the cold can be rewarded with some of the biggest crappie of the year.
With the right tactics, you can reel in crappie weighing in at over three pounds! So bundle up and get ready for an exciting day on the water, as we take you on a journey to uncover the secrets of catching crappie on Lake Guntersville in the winter. 
As winner of Crappie USA's Winter Series Championship in January 2023, Alabama's newest national fishing champion Shiloh Shoppell is an expert at catching crappie from cold water. His primary winter pattern depends on finding baitfish. 
"In winter," Shoppell said, "if you find bait, you will find crappie nearby. Go into the backs of creeks until you stop seeing baitfish, then put the trolling motor down and fish your way out of the creek. Work the first ledge from the shoreline. 
"On cloudy days, crappie will suspend in the lower two-thirds of the water column. On sunny days, especially after a rain, they will suspend in the backs of creeks from 2 to 4 feet deep. You may be in water 40 feet deep, but the crappie are only a few feet deep. 
"Crappie are positioned in the top layer of water enjoying the warmer water. When you find them like that, it's almost foolproof. All you need to do is put a bait in front of them. These crappie want to eat." 
When Shoppell began fishing with forward-facing sonar, he discovered crappie relate to schools of baitfish in an unexpected manner. 
"I was taught to always fish below the school of baitfish," he said. "But I have proved that wrong on many different lakes in every state where I have fished. 
"Crappie will actually suspend above the baitfish. The first time I saw this, I had my forward-facing sonar set to 70 feet and watched five fish positioned 4½ feet below the surface over a giant wall of shad. About 10 shad broke from the school towards the surface and the crappie took off after them like sharks. 
"Countless times I have watched crappie suspended above balls of shad waiting for them to break from the school. It's an excellent situation for the crappie. When shad break upward, the surface of the water acts as a barrier, and they can only turn left or right. This makes it easier for the crappie." 
Shoppell says anglers should look for small schools of shad formed into tight balls. It's a sure sign predators are nearby and feeding on the school. He finds that this pattern works best with small schools of shad. Shoppell developed this pattern while living in Illinois where it's colder. Even with water temperatures below 40 degrees, he says this pattern works best when heavy rains dirty the water. 
"In Illinois with 36 degree water," Shoppell said, "I have seen crappie feeding on shad only 6 inches below the surface in the backs of creeks. This also applies to Lake Guntersville. Find dirty water with baitfish and this will be your favorite pattern as well." 
Shoppell says crappie relate to baitfish until mid-March when the pre-spawn period begins. 
Tackle 
"In winter," Shoppell said, "I fish a 1/32-ounce hair jig below a ¼-ounce tungsten weight about 60 percent of the time. Otherwise, I use a 2- or 3-inch soft plastic rigged on a 1/32- or 1/8-ounce jig head. I prefer the heavier jig head if crappie are aggressively thumping the lures, but if they are grabbing it by the tail, I downsize to a 1/32." 
Shoppell's hair jigs are hand tied by Pops Jig Company. His primary colors for hair jigs are Pink Moon (pink and green), Teddy (brown and yellow) and Arkie Shiner (cream and gray). For plastics, Shoppell prefers Bojangle's Bominno in 2- and 3-inch lengths in Slutty Monkey and Ol' Faithful colors. He rigs the Bominno lures on unpainted jig heads. 
"If I am able to fish the lures vertically," Shoppell said, "I use either a 13- or 15-foot Jinko Big T X- series jigging poles. If the fish will not let me get close, I cast to them with Jinko's 7-foot Big T Trick Stick spinning rod. All rods are fitted with Ardent reels. On the jigging rods, I use 12-pound K9 Fluoro unless the water is clear, in which case, I switch to 6-pound Fluoro." 
Where to Fish 
"This pattern works across Lake Guntersville," Shoppell said, "especially if you find dirty water. A good example is Town Creek. It has two primary creeks channels that branch into secondary creeks channels. You are bound to find them in one of those creeks." 
To book a guided fishing trip with Shiloh Shoppell call him at (618) 407-3986 or visit Facebook page.
For more information on forward-facing sonar and  Shoppell's settings, click here.
Click here to read more about how successful anglers find and catch Bama's bass.