WE ARE YOUR SOURCE FOR FISHING DESTINATIONS IN ALABAMA!
Three Patterns for Big Creek's Largemouth in Early Fall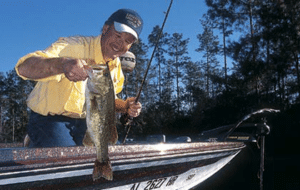 September through mid-October provides Big Creek Lake anglers an excellent opportunity to have fun fishing shallow or deep.
By Eileen Davis
"September through mid-October provides anglers who have never fished the lake with an excellent opportunity to have fun," says winning tournament angler Dwayne Sixbury of Semmes, "because there are so many different ways to catch fish. You'll find bass in the shallows, on drop-offs or in a school busting shad on the surface. It's a great time to fish – probably the best!"
Clear and deep, Big Creek is located 12 miles west of Mobile and covers 3,600 acres. The lake is extremely deep for this part of the state – 55 to 60 feet deep at the dam, with creek channels reaching depths greater than 20 feet. Built in 1952, Big Creek's only available structure or cover are its channels and aquatic vegetation.
Sixbury, a determined angler who has spent many years unlocking the lake's secrets, says fishing continues to improve.
"On a good day in September," he said, "it's possible to catch a stringer with a three-pound average. As for numbers, expect to catch 25 to 30 fish when fishing is good or half that number if it's slow.  But even during slow periods, you'll catch a few three-pounders. The occasional big fish weighs five to six pounds."
Sixbury begins his hunt for largemouth at first light in sloughs with submerged grass.
"During low-light conditions," observed Sixbury, "bass feed in water less than three feet deep with grass growing to within four inches of the surface. These grassy shallows occur over several areas of the lake in sloughs.
"Early morning or late evening, a Bang-O-Lure or a seven-inch trick worm will draw topwater strikes from aggressive bass weighing up to five pounds. Use at least 12-pound-test line, because you've got to wait until you feel the strike before setting the hook. By then, he'll be buried in the grass, and you will have to winch him out."
Bright skies and a stable barometer will find Sixbury watching his sonar as he searches the channel on the north end of the lake. He says an ideal spot is a horseshoe bend where the top is in 13 to 16 feet of water with a drop of 28 feet on the sides. If his sonar does not show both grass and fish between the bends in the channel, Sixbury continues his search.
"With a good pair of polarized glasses," he said, "you can usually see shad in about five feet of water riding the edge of the grass. Drop buoys along the edge of the grass so you can cast parallel with the weeds without hanging. Do not anchor."
Sixbury relies on a battery of crankbaits to tease these deeper fish into striking. He prefers lures with a realistic finish like the Bevy Shad and the Pointer by Lucky Craft and the Rattl'N Vibe by Yo-Zuri. Both Lucky Craft lures dive and suspend, while the Yo-Zuri is a fast-sinking lipless bait.
During summer, Sixbury also targets schooling bass. "The schooling bass on Big Creek reminds me of Spanish mackerel in the Gulf." he said. "I would estimate some schools contained 40 to 60 bass. The fishing begins in late August and continues until the first cold snap.
"You can find bass pushing shad into shallow sloughs or to the surface in water 55 feet deep. In both situations, fishing doesn't begin until 7:30 a.m. and is best if it's calm and cloudy."
Sixbury cautions against using a trolling motor near breaking fish as its sound spooks the shad. For the long distance casts needed to reach schooling bass, he uses walk-the-dog lures like the Zara Spook or the DUO Realis Pencil.
A concession boat launch is located at Fox Landing, at the end of Howell's Ferry Road.  Bank fishing is limited to the area off Hwy 98.
Read more about how successful anglers find and catch Bama's fish.