WE ARE YOUR SOURCE FOR FISHING DESTINATIONS IN ALABAMA!
Wes Logan's Favorite Summer Patterns for Neely Henry Bass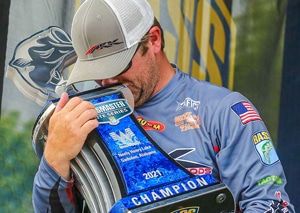 Summer is our longest seasonal fishing period. Winning Bassmaster Elite angler Wes Logan's summer patterns produce quality bass on this Coosa River lake.
By Eileen Davis
In May, professional angler Wes Logan of Springville won the Bassmaster Elite Series tournament on his home lake Neely Henry. For fishing there in summer, he said anglers have the option to target fish either on shallow cover or on offshore brush piles.
"Neely Henry is a very interesting place," Logan said, "because you can do either one and be successful. For numbers of fish, I would go with the offshore pattern, and for quality I would go with the shallow water. My favorite patterns are shallow."
Lake Neely Henry covers 11,200 acres and offers 339 miles of shoreline. It is one of six Alabama Power Company reservoirs and is downstream from Weiss Lake. The lake flows through Gadsden.
Early Morning Pattern
In early morning, Logan targets shoreline bass in the lake's normally stained water with a Scott Canterbury Pro Buzz Bait made by Dirty Jigs.
"It's a buzzbait that does not have a skirt," Logan said. "The bait has a lead head that I rig it with a black Zoom Horny Toad. You can cover a lot of water, and you can throw it around heavy cover. If you bring it by a fish that is halfway active in the morning, you're going to get that fish to react with that buzzbait. It can trigger bites from big fish.
"An ideal situation for this pattern is overcast conditions, as the clouds will allow you to work the buzzbait well into the morning. Anytime you have overcast conditions in summer, the fish are going to be more aggressive."
Logan's setup for fishing a buzzbait is a medium-heavy, 7-foot, 3-inch Ark Invoker Pro rod with a Team Lew's Pro Ti baitcast reel spooled with 40-pound-test SX1 Sunline braid.
"When using braid," Logan said, "it's not necessary to set the hook as the fish hook themselves. So a medium-heavy action rod works perfectly, and its softer action makes it easier to cast. I use a Lew's Pro TI reel with a 7.5:1 gear ratio to keep the buzzbait on top of the water. The higher gear ratio keeps you from working so hard and wearing your arms and hands out."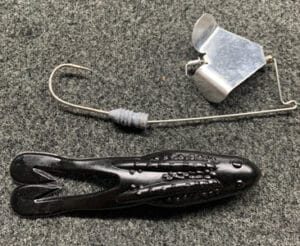 In early morning, Logan targets shoreline bass in the lake's normally stained water with a Scott Canterbury Pro Buzz Bait made by Dirty Jigs rigged with a Zoom Horny Toad.
Midday Pattern
In summertime, when the sun comes up and the buzzbait no longer draws those heart-stopping explosive topwater strikes, Logan switches to fishing the shadows under over-hanging trees, next to bushes, or under boat docks.
"On a normal day between 9 or 10 o'clock," he said, "I start running the secondary pattern where I focus on shade with hard cover. Where there is shade, the water's going to be cooler, so fish these areas of the lake. Where there is no shade, you have to fish boat docks.
"Boat docks are very productive. In the summertime, it's possible to catch one of the biggest fish of your life off a boat dock. Everything gravitates towards that shade, so it holds a lot of life.
"The two baits I use for this pattern are a Texas-rigged Zoom Z Craw Jr. and a Luke Clausen compact pitchin' jig by Dirty Jigs. On the Texas rig, I peg a 3/8-ounce Ark tungsten weight with a bobber stop and use a 3/0 Gamakatsu straight shank flipping hook. The Dirty Jig is also 3/8 ounce, and the trailer is a Zoom Super Chunk. If water visibility is good, I use a green pumpkin color for these lures, otherwise, I use black and blue."
Also depending on water clarity, Logan fishes these lures on 18- or 22-pound-test Sunline fluorocarbon. He spools the line on the same Lew's Pro TI reel but switches to a 7-foot, 4-inch heavy-action Ark Reinforcer rod.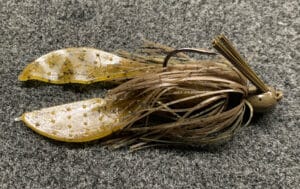 Logan fishes midday cover with a Luke Clausen compact pitchin' jig by Dirty Jigs rigged with a Zoom Super Chunk.
Electronics
"Electronics do not come into play that much when you are fishing shallow," Logan said, "But if you have never been to Neely Henry, you can use Humminbird's Lakemaster map to establish a pattern.
"For example, if you catch a few fish on boat docks in 4 to 6 feet of water, then you set the map to highlight those depths. Then using the map it's quick and easy to find another row of boat docks that are in that same depth range. If you fish them and get a few bites, you have establish a pattern. It saves you a lot of time from not having to fish every boat dock.
Where to Fish
Logan continued, "One thing that is special about the Coosa River is that it's not unusual to catch a 4-pound spotted bass in the same place as a 4-pound largemouth. The lake has such a good population of both species.
"I like to fish the mid lake area, which is anywhere from 5 to 8 miles upstream and downstream from the Highway 77 Bridge. It's a fertile area of the lake, and it always holds a lot of spotted and largemouth bass."
Read more about how successful anglers find and catch Bama's fish.