WE ARE YOUR SOURCE FOR FISHING DESTINATIONS IN ALABAMA!
Spider Rigging with LiveScope on Wheeler Lake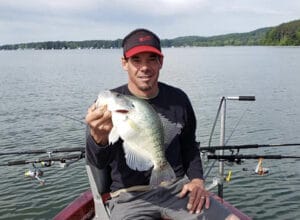 Winning tournament angler Kevin McCarley combines spider rigging with LiveScope for finding and catching crappie on Wheeler Lake in April.
By Eileen Davis
Wheeler Lake lacks the notoriety of other crappie lakes in Alabama, but winning tournament angler Kevin McCarley of Ardmore reports anglers can expect excellent fishing for white crappie. He says while anglers will catch 9-inch fish, they will also catch slabs weighing from 1 1/4 to 3 pounds.
As the second largest lake in the state, Wheeler Lake stretches for 85 miles from the Guntersville Dam to the Wheeler Dam on the Tennessee River. It covers 68,300 acres, but the upper end of the reservoir is a run-of-the-river reservoir that begins spreading out near Decatur. In the lake's middle section, stump flats, weed beds, and creek channels offer the best fishing for crappie.
In spring, McCarley recommends fishing Fox, Limestone and Mallard creeks.
"Look for a stump flat close to a creek channel off the river," McCarley said, "A good flat can be as shallow as 2 feet with a drop off to a depth of 12 or 13 feet. Since the fish are in all three stages of the spawn, you will catch fish shallow, as well as on the edge of the channel. In April, most of the crappie are spawning or post-spawn."
McCarley's set up for fishing stump flats and the edge of the channel is a spider rig consisting of eight rods and a Garmin Panoptix LiveScope with the transducer mounted on its own pole.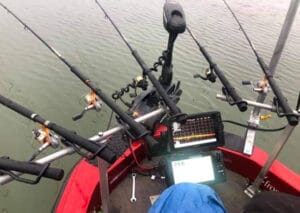 McCarley's Garmin LiveScope is centered on the bow and set to watch his front two poles.
"I use 16-foot B'n'M Pro Staff trolling rods spooled with 6-pound-test Slime Line," he said. "On the two front rods, I fish minnows on a No. 2 hook about 18 inches below a 1/4-ounce split shot. This allows the minnow to swim freely and the weight is perfect for slow trolling stump flats at 0.3 mph.
"Then on the next two rods, I switch to jigs. On one, I run a 1 1/2-inch Slider grub, and on the other side, I run a 2 1/8-inch Slider minnow. I rig both on 1/16-ounce Eye Hole jigs with light wire hooks.
"For colors, I am always going to have a June bug color on one and chartreuse and white on another."
McCarley repeats the set up on the next four rods to complete his eight rod spider rig, so he is pushing four minnows and four jigs rigged with soft plastic.
"My front pole is usually the deepest," he said. "I set the next two a foot or so higher. I like to drag my outside poles close to the bottom, so if one gets snagged, I can usually free it quickly. 
McCarley sets the range on his LiveScope at 60 feet. This allows him to find fish and move to, through and around cover.
"I always watch my front poles with LiveScope, and occasionally turn it to check depths on other rods. When I see where the fish are holding in the water column, I set the baits 6 to 12 inches above the fish."
When crappie appear on McCarley's LiveScope, he stops the trolling motor so his baits glide up to them. This is essential if the fish are spooky. But even then, there are some fish you will never catch.
"The biggest advantage to LiveScope is time management during a tournament," McCarley said. When you see a stump or brush pile that looks good, you can check it with LiveScope and determine without a doubt whether or not it holds fish.
"The main thing I've learned from using LiveScope is how many fish look at your bait and never bite. It is amazing!
Read more about how successful anglers find and catch Bama's fish.
This video from BrushPile Fishing is of Kevin McCarley and Russ Bailey spider rigging on Wheeler Lake in January.