WE ARE YOUR SOURCE FOR FISHING DESTINATIONS IN ALABAMA!
Smallmouth Tips From Three Pickwick Lake Guides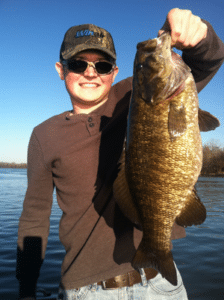 When it comes to the best smallmouth bass fishing on the planet, few lakes enjoy the reputation of Pickwick. If you are an avid smallmouth angler, don't let this bucket list adventure pass you by.
By Eileen Davis
Steve Hacker
"Pound for pound, no other freshwater fish compares to a smallmouth," reports veteran smallmouth guide Steve Hacker of Florence.
In nearly every fishing report written by Hacker, he covers flow rates from Wilson Dam. He says the best fishing occurs for those hard fighting 5 and 6 pounders with discharge rates between 70,000 and 150,000 cubic feet per second for a 24-hour period.
"If the TVA cuts the flow, then fishing is very tough instantly, even though you have caught fish day after day – the stronger the current, the better the bite."
In addition to current, Hacker says another critical component to catching big smallies is to fish a hard bottom. "Gravel, rocks or shells produce, mud bottoms do not," he said.
Hacker has the best website domain name for a smallmouth guide. It is www.smallmouth.com.
Cameron Gautney
Smallmouth bass numbers and size make this a world-class fishery. On a good fall day, tournament angler and guide Cameron Gautney  reports anglers can catch 20 to 40 fish, with many weighing more than four pounds. Five pounders are possible, and on a rare day, the tailrace will produce a trophy eight-pound bronze beauty.
"In fall, I strongly recommend fishing with yellow tails (threadfin shad)," said Gautney. "It's crazy how much difference they make in your catch. Hook them on a No. 4 Eagle Claw bait holder hook tied to 8-pound-test and use enough split shot on the line to control the drift. A simple split-shot rig is best because it's quick to tie after getting hung in the rocks."
When drifting the tailwaters below Wilson Dam, Gautney makes controlled drifts over rocky bottoms and casts upstream at a 45-degree angle. "It's all about your cast or angle of your cast," he said. "If you use the correct weight, so the bait drifts with the boat, you can keep it out to side a little bit, like at a 45 degree angle.
Brent Crow
"In fall, the tailrace below Wilson Dam is a smallmouth magnet," said Tournament angler and guide Brent Crow of Hartsell.        
He said water release rates are the most important factor in his success when fishing the tailrace. Crow explained, "Release rates more than 50,000 cubic feet per second (cfs) offer good fishing and rates between 80,000 to 100,000 cfs is when I have my best luck."
"Fishing for smallmouth is excellent in October. On a good day, you can catch 15 to 20 fish 15 inches or longer, with two to three weighing more than 5 pounds. And you always have a chance of catching a 6 or 7 pounder."
Crow finds the best fishing lies between the dam and the Natchez Trace Bridge. To fish this area, Crow relies on a 5 1/2-inch swimbait rigged on 1/2-ounce swim head. He casts the lure cross current to rock piles and current breaks with an 8-foot rod then makes a slow, steady retrieve to keep the lure near the bottom.
Read more about how successful anglers find and catch Bama's fish.