WE ARE YOUR SOURCE FOR FISHING DESTINATIONS IN ALABAMA!
Same Day Bass and Crappie on Lake Martin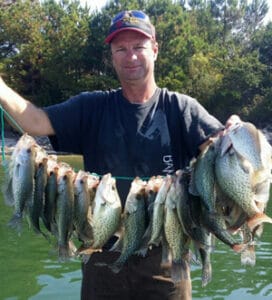 If you are ready to experience heart-stopping action for bass and the thrill of catching crappie on the same day, April is a fantastic month.
By Eileen Davis
Fishing guide Chad Miller of Eclectic has the perfect strategy for catching both bass and crappie from Lake Martin's 39,100 acres of clear water. He fishes for spotted bass from dawn until midday and then spends a relaxing afternoon with his family while waiting for sunset. As darkness envelops the lake, Miller fishes for crappie under pier lights.
Located 40 miles northeast of Montgomery on the Tallapoosa River, Lake Martin has 700-miles of shoreline favorable to productive springtime fishing patterns for both spotted bass and crappie. The lake's long, gently sloping points, rocky banks and docks offer fast action during April.
"Last spring, Miller recalled, "we caught as many as 40 spots a day weighing between 2 and 4 pounds. In April, you find spotted bass range from prespawn to post spawn. Also in April, the crappie that are feeding heavily under pier lights are getting ready to spawn. It's some of the best night fishing on Lake Martin."
Spotted Bass Pattern
The key to the spotted bass pattern in April is the shad spawn. They spawn the first hour of daylight next to the bank, and you can find them flipping on the shoreline in rocks. The spawn creates an exciting shallow-water pattern as bass feed on shad; sometimes, even knocking them out of the water and on the bank.
"The best fishing," Miller revealed, "occurs before 9 o'clock. That's when the shad move off the bank. Stay in contact with the shad as they move deeper, but they don't move far because they will spawn in the same place the next day."
For anglers planning to fish the lake for a few days, Miller recommends spending the first hours of the first day finding shad spawning areas and then returning the next day to fish. He looks for rocky points leading out to a main creek channel with brush on the point at a depth of 10 to 14 feet. In addition, the shallows must have rock to attract spawning shad.
Miller's early morning lures include a willow-leaf spinnerbait, Pop-R and a Zara Spook. When the bite moves deeper, he switches to a ¼-ounce shaky head rigged with a trick worm in either green pumpkin or watermelon seed colors.
Night Fishing for Crappie
According to Miller, night fishing for slab crappie is extremely deadly. He says Lake Martin's clear water makes night the best time to fish.
"In April," Miller continued, "you can catch crappie during the day from brush piles 6 to 12 feet deep, but the lights concentrate the fish and they are not as spooky.
 "The best docks are those where the owners have placed hardwood brush piles to attract fish. Crappie prefer hardwood much more than they do cedar trees."
Miller recommends fishing docks with ultralight spinning gear and your favorite crappie jigs. He says minnows are not necessary.
For a guided trip for bass and crappie on the water with Chad Miller, call him at (334) 300-5337.
Read more about how successful anglers find and catch Bama's fish.
From April 1 to July 4, anglers are invited to fish on Lake Martin and take a chance at catching a tagged bass worth one million dollars or others worth $1,500, two boats, or a truck. To win, you must first register. Learn more at How To Catch The Million Dollar Bass Swimming in Lake Martin.