WE ARE YOUR SOURCE FOR FISHING DESTINATIONS IN ALABAMA!
Summer Fun and Fishing at Oak Mountain State Park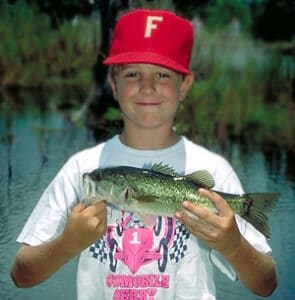 Bama's largest state park is where families can enjoy fishing and other activities to give children a love of the outdoors. Here is what you need to know.
By Eileen Davis
For an outdoor family, fishing creates some of the most memorial times in a child's life. Catching a first fish, a big fish or a certain species forms an unforgettable memory. Combine this with a first camping trip to Oak Mountain State Park and it's truly a remarkable vacation.
Located a short drive south of Birmingham in Pelham, anglers will find plenty of fishing adventures at the park. Oak Mountain's 11,551 acres of hardwood bottoms and piney ridges create three lakes for fishing. Depending on the lake, they offer good fishing for bass, bluegill, catfish and crappie.
Lunker and Oak Mountain lakes cover 85 acres each and are located in the northeast corner of the park near the back gate just off State Route 119. At the other end of the park near Interstate-65 lies Double Oak Lake. This 75-acre lake has a marina and beach. All lakes have boat ramps and boat rentals, but power is limited to electric trolling motors.
District III Fisheries Supervisor Chris McKee sampled the lakes and has the latest data on where best to fish for each species.
"Double Oak Lake," he said, "has an abundance of 9- to 12-inch black crappie. There is also an abundance of bass between 12 and 17 inches. The crappie have out competed bluegill, so this is a good lake for bass and crappie. If you want to catch catfish, this is the lake where they release catfish for kids fishing events.
"On Lunker Lake, we found big schools of bluegill on beds. They measured 7 to 10 inches, but most were 7 to 8 inches, which is hand-size bluegill. Fortunately for anglers, bluegill spawn throughout the summer. This lake also had an abundance of small bass.
"Oak Mountain Lake is probably your best bet for catching big bass. About 35 percent of the population measured between 14 and 16 inches. Anglers can catch 4- to 6-pound bass on this lake."
When introducing children to bass fishing on Oak Mountain Lake's clear water, McKee recommends they use a Texas rigged watermelon finesse worm on a 1/0 worm hook with a 1/16-ounce sinker. Use spinning gear spooled with 6- or 8-pound-test monofilament.
"This is absolutely the best bait for beginners to use for catching bass in clear water," he explained.
To catch bedding bluegill on Lunker Lake, McKee recommends quickly moving down the bank to spot bedding areas and mark them with a buoy. Once you have a few marked, return to the first one and quietly move to within casting distance.
When the kids have had enough fishing, Oak Mountain has a variety of activities for the entire family. The park offers more than 20 miles of mountain biking trails, a BMX track and a pump track, stables with horseback rides, 51 miles of hiking trails, and an 18-hole golf course. Last year, the park added a watersports wake board park with an 817-foot cable ride across the lake.
For current fishing information, telephone the park's fishing center at (205) 620-2529 or visit their website.
Read more about how successful anglers find and catch Bama's bass.