WE ARE YOUR SOURCE FOR FISHING DESTINATIONS IN ALABAMA!
Summer Bassin at Night on Smith Lake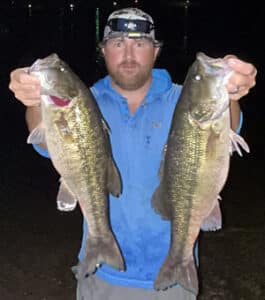 Winning tournament angler Jordan Wiggins reveals how to find and catch spotted bass at night during the heat of summer on Lewis Smith Lake.
By Eileen Davis
During summer, anglers can fish a night tournament on Smith Lake nearly every weeknight. Day or night, one angler who competes and wins often is Jordan Wiggins of Cullman. He has competed against the best and has earned a string of championship titles. Wiggins is also a two-time Angler of the Year on the Alabama Bass Trail.
The pattern Wiggins fishes at night in summer on Smith is one in which he has great confidence.
"When the water temperature reaches 85 degrees," Wiggins said, "bass are going to be on long running points in 20 to 30 feet of water. Instead of suspending on the points, they position themselves on any cover or structure on the point. Stumps, brush and rock piles are perfect for catching 3 and 4 pounders.
"Fishing dock lights is a popular pattern on Smith. The lights attract baitfish and the bass follow. Dock lights produce a lot of fish, and it's possible to win a tournament. The problem with this pattern is you do not know if someone fished a dock 10 minutes before you arrived."
"I don't fish dock lights. I have about 20 points that I can rotate through during a night tournament. There are an unlimited number of points, so no one is going to fish my exact spot."
Night tournaments on Smith start at 6 p.m. or 6:30 p.m. and end between 9:30 p.m. and 1 a.m. in the morning. The bass fishery is predominantly spotted bass, and anglers are limited to weighing in three fish. Winning weights usually total between 10 and 11 pounds. 
Finding Fish
When fishing out of Smith Lake Park, Wiggins restricts his fishing area from the dam to Duncan's Bridge and Rock Creek.
To find promising points, Wiggins recommends using contour maps, sonar and time on the water. He continued, "Finding the sections of the lake that produce the 3 and 4 pounders needed to win tournaments took many years. At a recent night tournament, we caught 15 to 20 keepers and seven fish weighed more than 3 pounds."
When Wiggins approaches a point, he scans it using Lowrance ActiveTarget to pinpoint fish holding cover or structure. The presence of baitfish does not matter at night. He sets the range on the forward facing sonar to 100 feet and the depth at 45 feet.
"If the fish are holding off the bottom," Wiggins said, "you will see them with ActiveTarget. However, most of the time they are on the bottom and tucked into the brush piles. At night, you are looking for a rock or brush pile to target with your lure. With ActiveTarget, I know exactly where to cast."
Wiggins' primary lure is a 3/16-ounce shaky head jig rigged with a Reaction Innovations Flirt finesse worm in green pumpkin. He fishes it on a 7-foot 1-inch St. Croix Legend Elite (ES71MHXF) medium-heavy rod with an extra-fast tip. His spinning reel is a size 30 Quantum Smoke S3 spooled with 15-pound Seaguar Smackdown braid tied with an FG knot to a leader of 15-pound Tatsu Seaguar fluorocarbon line.
"My choice of line seems heavy for Smith's clear water," Wiggins said, "but I would rather miss a strike than lose a fish. It's perfect for night fishing."
Fishing a Shaky Head
While finesse fishing is a lighter line technique, Wiggins has perfected the art of the shaky head presentation.
"There is a fine art to fishing a shaky head," Wiggins said. "Let the bait sink to the bottom and then shake the line, not the bait. You want to shake the line fast, but you do not want to feel the bait.  Shake the line until your rod is vertical, and then check to see if you are getting a bite. Most of the time, bass strike when your lure is coming over something or when it breaks free after becoming hung. This presentation will trigger finicky bass into biting.
"If we have a full moon in August or September, expect to catch a lot of fish. Also if we have a bright sunny day, the fish wait until night to feed. But if you have a cloudy day, the fish have probably been actively feeding, and night fishing will not be as good."
Wiggins taught his son Jace how to fish a shaky head worm and it has created a special memory for both of them.
"Last year," he said, when Jace was seven years old, we fished our first night tournament together. The entry fee was $40 with a $60 sidepot for big fish. I entered us in both and we won the tournament and big fish. I think we won $800, which Jace got to keep."
For information on places to stay, eat and explore, you will want to click on  visitcullman.org.
Click here to read more about how successful anglers find and catch Bama's bass.