WE ARE YOUR SOURCE FOR FISHING DESTINATIONS IN ALABAMA!
Limblines for Big Alabama Catfish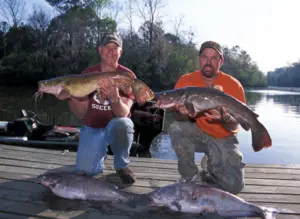 How to catch big Alabama River catfish using limblines.
By Eileen Davis
When Mark Nichols of Prattville met Jody Atkins of Pittsview many years ago, it didn't take long before they were swapping tales about the catfish in their home waters. Atkins, a well-known catfisherman on the Chattahoochee, found it difficult to believe Nichols' stories of 40-pound fish and straightened hooks.
"I could not imagine that the fishing Mark described on the Alabama River was possible," Atkins said. "He claimed each trip would produce a number of fish weighing between 15 and 20 pounds, with a few tipping the scales at more than 25 pounds.
"So my partner and I made a trip to Jones Bluff. Immediately, we caught a 15-pound flathead. The first 10 fish in the boat each weighed more than 10 pounds.
"When night fell, the bite stopped; then about midnight the fish began to feed again. We rounded a curve and found one of our 6-foot limbs in the water. Oh man! Just to feel the power of that fish on the other end was unbelievable. We broke the handle on our net pulling that fish into the boat, and I'll bet he measured 10 inches between his eyes.
"On our first trip, we caught a 29-pound blue cat, a 36-pound flathead and 10 fish over 15 pounds," he continued. "And we did have some of our hooks straightened. Every trip since then has been just as exciting."
Nichols, who has fished Jones Bluff between Prattville and Autaugaville for more than 30 years, has caught several catfish weighing more than 40 pounds. Like all anglers, he's seen a few big ones escape.
"We have had some blues on our hooks weighing more than 50 pounds," he said, "but we could not get them in the net fast enough."
To catch these big cats, both anglers rely on limblines. They say nothing beats a hook and line tied to a tree limb. You can position your bait where the catfish feed, and you can eliminate losing fish on nearby snags by controlling line length. These lines are so effective when set by Atkins and Nichols that the anglers only fish 10 to 15 hooks.
Limblines
Their limblines consist of 120-pound-test bonded nylon tied to a quality swivel, followed by a 60-pound-test monofilament leader. Atkins uses a 10/0 circle hook for live bait and an 8/0 straight-shank round-bend hook for cut bait. Nichols prefers 2/0 and 4/0 hooks. Additionally, he attaches a sinker to the main line.
Nichols also has some tips on selecting limbs.
"You want a small green limb," he said. "If it's too stiff, a big fish will break your line or straighten your hook. Also, make sure your line is short enough so the fish will not reach any snags when hooked. And don't forget to wrap reflective tape on the limb before leaving."
For late-summer fishing, Atkins recommends fishing the main river and setting limblines on steep banks, shallow points and hard bottoms.
"When fishing steep banks," he said, "the fish tend to hug the bank due to the depth of the water. More than likely, steep banks hold blue and channel cats, so cut bait works best. All catfish prefer hard bottoms, so look for limbs on marl banks.
"A limb on a point or knoll where current changes direction is extremely effective. We fished one limb on the Alabama and caught four fish weighing 75 pounds in less than three hours. All species of cats hold behind points, picking up bait as it flows past. If you want to target flatheads in this situation, use live bait."
Both anglers adjust their lines to keep their baits shallow. Often they fish their baits just below the surface, and that's especially true for flatheads.
"A flathead's eyes sit high on his head," Atkins explained. "As a predator, the flathead does not look down to scavenge off the bottom; he's looking up."
Atkins and Nichols bait their hooks with freshly caught shad.
Boat Ramps on Jones Bluff
An excellent boat ramp for fishing the upper lake is off U.S. Highway 31 at Cooters Pond. Use the ramp at Swift Creek southeast of Autaugaville for fishing mid-lake, and use the ramp north of Edsons to fish near the dam. These ramps and others are easily located by referring to the Alabama River Lakes map, which is available from the Corps of Engineers Resource Office for Alabama River Lakes by calling (334) 872-9554.
Read more about how successful anglers find and catch Bama's fish.