WE ARE YOUR SOURCE FOR FISHING DESTINATIONS IN ALABAMA!
Slab Crappie This Winter on Lake Guntersville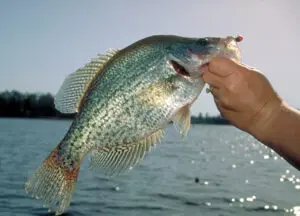 A pattern for catching 2- to 3-pound crappie from late fall through winter on Lake Guntersville.
By Eileen Davis
"My best 30-fish stringer on Guntersville was in November," recalled Alex Rawleigh of Hazel Green, "and weighed 64 pounds. Three fish weighed more than three pounds, with the largest weighing 3.4 pounds. Guntersville has some monster crappie." 
Rawleigh has fished the 69,100-acre lake, which is located in the northeast corner of our state, for more than 40 years. He enjoys fishing for most of the species swimming in the Tennessee River, but crappie fishing from late October to mid-December is the highlight of his fishing year.
For most of those years, Rawleigh has kept a log of fishing conditions when searching for bass, bream, crappie and sauger. A review of his records revealed that he would occasionally catch trophy-size slabs in November with a one-ounce jig and pig while fishing bluff walls for bass.
"I was catching crappie that weighed nearly three pounds," he said. While recording a trip and looking at the map after a week of fishing, I discovered every time I caught crappie it was where the river channel swings into the bank."
To test the pattern, Rawleigh decided to try it in a different location and found similar structure on his map 20 miles away.
"Not knowing what to expect," Rawleigh admitted, "I cast my jig. When it reached a depth of 18 to 20 feet – bingo – the line jumped and a big slab came into the boat! In 30 minutes, I had a limit in an area I had never fished before. I knew that I had stumbled onto something special."
To duplicate Rawleigh's success, follow the Tennessee River channel on your map to where it makes a sharp bend into shore and back out again. Tightly stacked contour lines are bluffs.
Above water, Guntersville's bluffs appear as fractured rock walls with cedar and pine growing tenaciously along its edges. In places, you'll see deep cuts where the wall has collapsed. Below water, the bluff stair steps down into the channel with a collection of blowdowns and boulders from above. This is mixed with debris washed down from the current.
When planning a trip, Rawleigh says current flow is critical as it positions the shad and crappie behind current breaks on the rock wall. He said it takes about two hours of current to concentrate the fish. 
"As you approach the bluff," he said, "you will see large balls of baitfish 18 to 20 feet deep on the depthfinder, and you will see bigger returns just below the shad. Ninety percent of the time, these are crappie."
To tempt deepwater crappie, Rawleigh casts a 1/16-ounce jig rigged with a 1 ½- to 1 ¾-inch soft plastic body. His uses a 5 ½-foot ultralight spinning rod spooled with blue-fluorescent, 4-pound test monofilament.
"Work the jig by counting down to where the fish are positioned on your depthfinder," Rawleigh said. "Then twitch the line, let it fall, and repeat. Since the crappie often position themselves nose up and move up to take the jig, you will not feel the bite, but you will see your line snap or jump. That's why I use fluorescent line. You must watch your line to catch fish."
Rawleigh said the crappie on Lake Guntersville move deeper as the water temperature cools. In early November, look in water less than 15 feet deep, but by late December they may be as deep as 40 feet.
Read more about how successful anglers find and catch Bama's fish.