WE ARE YOUR SOURCE FOR FISHING DESTINATIONS IN ALABAMA!
Catch More Flatheads this Spring on the Tennessee River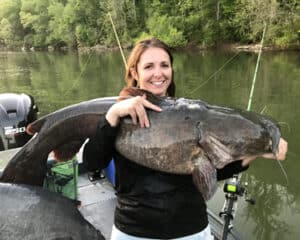 Legendary catfish guide Mike Mitchell reveals his strategy for catching flatheads this spring on Wheeler Lake.
By Eileen Davis
Mike Mitchell of Grant shifts his focus to catching flatheads during their prespawn period. These apex predators are preparing to reproduce and are very aggressive in their feeding behavior as they try to build up energy reserves for the breeding season.
"Fishing for flathead is typically best from mid-April to mid-May," Mitchell said. When we have cool, wet years in Alabama, they can be caught in early June, but for the most part, flatheads spawn in June when water temperatures are between 75 to 80 degrees. In fact, fishing is so slow in June, it's usually when I take a few weeks off."
When targeting prespawn flatheads on a guide trip, Mitchell usually catches between five and 10 fish weighing 20 to 50 pounds. He releases all blue and flathead catfish weighing more than 15 pounds. Keeper flatheads are excellent table fare and have plenty of meat.
Where to Fish
In early spring when water temperatures cross 59 degrees and climb into the 60s, flatheads migrate to feeding areas near where they will eventually spawn. Mitchell finds the best fishing from 10 to 25 miles below the Guntersville Dam.
He continued, "With a slow moving current, flatheads hang around mid-lake humps, prominent rocks and sharp river bends with rocks. However, it's very dependent on current. During highflow with more current, they tend to hold tighter to the bank around wood cover.
"Current is huge as it really helps me locate fish. It puts flatheads in predictable locations at higher concentrations, and the higher flow stimulates them to feed. Current moves more forage to the fish and they become aggressive feeders. If we have a dry spring and don't have power generation, it's necessary to move often to find scattered fish that are not active. During periods of less flow, we drift the bends in the river and fish vertically in the deeper sections 20 to 50 feet deep."
As water temperatures warm into May, Mitchell moves upstream to catch prespawn fish from the tailwaters below the dam. Tailwaters often provide ideal spawning habitat for flatheads due to the release of cool, oxygenated water. The availability of a gravel or sandy bottom with cover such as logs, rocks or undercut banks create an excellent environment for spawning. Also, there's usually an abundance of shad and skipjack for large catfish.
"Fishing in the boils or within a mile of the dam for prespawn flatheads is great all over the Tennessee River," Mitchell said. "This works on other rivers like the Alabama, Warrior, and the Coosa. When fishing these areas, use the trolling motor and spot lock on current seams and log jams downstream from the dam."
Bait
Few anglers recognize cut bait as a legitimate option for flatheads, as most think yellow cats never scavenge a meal. However, Mitchell finds cut bait effective on these ravenous prespawn feeders.
"I only use fresh cut bait in early spring," he said. "It is an effective bait for catching flatheads during daytime. It probably emits more scent into the water than live bait, and it has the added advantage over live bait in that it does not get snagged as often.
"When we get closer to the spawn, live bait is better. Live baits include shad, bream and red horse suckers. Gizzard shad is hearty and easy to keep alive. Green and pumpkin seed sunfish also make excellent live baits as they stay alive longer and are more active on the hook.
"Five- to 10-inch baits will reduce the number of small flatheads you catch. To catch small fish, use 3- to 5-inch baits. 
I prefer to fish in the daytime until the water is over 70 degrees, the warmer the water the better the night bite."
Tackle for Monster Flatheads
When Mitchell sets up on a promising spot, his spread includes six heavy-action Big Cat Fever rods with reels spooled with 40-pound-test Slime Line monofilament. He threads the main line through a Boss Kat sinker slide and Boss Kat knot protector before attaching a 1/0 stainless swivel. Depending on the current, Mitchell selects a bank sinker weighing 3 to 6 ounces. He finishes the rig with a 2- to 3-foot leader of 100-pound-test monofilament tied to a Boss Kat circle hook in sizes 7/0 to 10/0.
For more information on Mike Mitchell's guide service, visit his Facebook page at Southern Cats.
Click here to read more about how successful anglers find and catch Bama's catfish.