WE ARE YOUR SOURCE FOR FISHING DESTINATIONS IN ALABAMA!
Fishing for Fall Bass on Lake Martin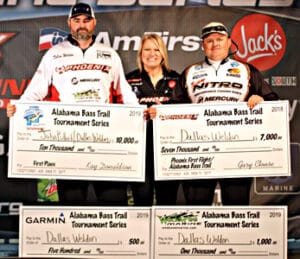 Fall fishing for spotted bass is turning on! Here are Dallas Weldon's patterns for catching both spots and largemouth on Lake Martin.
By Eileen Davis
When Tallassee native Dallas Weldon fishes Lake Martin in the fall, his approach depends on whether or not he is fishing a tournament. If Weldon is competing, he devotes the first 90 minutes of the day to catching spotted bass, with the remainder of his day spent hunting for Martin's elusive largemouth. However, on those special fun fishing days, Weldon only targets spots.
While competing against the best teams in the state on the Alabama Bass Trail, Weldon and his partner John Pollard have won both Angler of the Year and a tournament on Lake Martin.
"Typically," Weldon said, "fall fishing on Lake Martin begins the first night air temperatures drop into the 50s. Sometimes that happens as early as September. Fall fishing ends when the water temperatures cool to 56 degrees, which happens in late November.
Early Morning Spotted Bass
"For the early morning bite, I hit as many windblown points and short pockets on the main lake as possible with fast moving baits. Short pockets do not hold more fish. It's just that I don't want to spend a lot of time going to the back of pockets. I make as many casts as possible in that first 90 minutes."
Weldon's fast retrieve lures for spotted bass include Zara Spooks, Whooper Ploppers, vibrating jigs, and squarebill crankbaits.
If it's not too windy and the fish are aggressive, he prefers to start with topwater lures. Weldon fishes these on 7-foot, 6-inch medium-heavy, moderate action rods by Brush Pile Custom Rods. His reels are spooled with 40-pound-test "9" Strand Super Braid by K9 Fishing.
"When I fish a point," Weldon said, "I use Lowrance ActiveTarget live sonar to scan the point. It's amazing to see fish 60 feet from the boat eight feet deep, and then watch as they rise to the surface to strike. After making a cast, I always watch my lure on live sonar even if I do not see fish. Sometimes I will see spots streak across the water column to hit the lure."
As for the settings on his live sonar, Weldon fishes with the range set to 80 feet and adjusts the sensitivity based on water conditions. "The level of sensitivity depends on the amount of particles present in the water," he said. "You can turn it way up if the water is clean, but if the lake is turning over, you must lower the sensitivity to see fish."
If Weldon's topwater lures don't produce or it's too windy to fish them, he switches to a Strike King 1.5 squarebill crankbait that dives to depths of 5 to 6 feet or a vibrating jig. Weldon fishes them on 12-pound-test Original K9 Fluoro. He prefers shad colors for all of his lures while fishing for spotted bass on Martin.
Weldon says anglers can catch at least 15 to 20 spotted bass while using this run-and-gun pattern on the south end of the lake.
Fun Fishing for Spotted Bass
After the morning bite, Weldon will continue to fish for spots when fishing for fun.
"To catch spots after the early morning bite," Weldon said, "look for balls of baitfish by searching the big bays on the lower end of the lake. It does not matter how deep they are; it is how deep you want to fish. Last year, I caught spots 70 feet deep.
"When you find them, a 1/2- or 3/4-ounce chrome War Eagle jigging spoon will produce fast action. It's possible to catch 100 fish. I don't catch tournament stringers fishing this pattern, as most of the fish weigh 1 1/2 to 1 3/4 pounds. Occasionally, I catch a 2 pounder."
Tournament Day Largemouth
"It hard to leave spots and fish for largemouth when you are getting a bite every 10 minutes," Weldon said. "However, everyone who wins a tournament on Martin catches a big largemouth.
"I catch largemouth by going down the bank with the trolling motor on high looking for a dark spot while wearing polarized sunglasses. The dark spot can be anything that offers bass cover to ambush prey. I've caught fish off of brush piles, lay downs, stumps, tractor tires, as well as chairs and tables that have blown off docks.
"The depth I am fishing depends on water clarity. Sometimes I can fish 6 or 7 feet deep, other times only 3 or 4 feet deep."
When Weldon sees a dark spot, he casts either a 3/8-ounce Heavy Finesse jig by Crusher Lures dressed with a Zoom Chunk or a squarebill crankbait. He throws the jig with a 7-foot, 3-inch heavy rod with a fast action made by Brush Pile Custom Rods.
I either live or die using this pattern," he said. "If I fish Lake Martin in the fall, and I catch three largemouth over 3 pounds, I have had a good day."
Read more about how successful anglers find and catch Bama's bass.
From April 1 to July 4, anglers are invited to fish on Lake Martin and take a chance at catching a tagged bass worth one million dollars or others worth $1,500, two boats, or a truck. To win, you must first register. Learn more at How To Catch The Million Dollar Bass Swimming in Lake Martin.