WE ARE YOUR SOURCE FOR FISHING DESTINATIONS IN ALABAMA!
Family Fishing for Orange Beach Reef Fish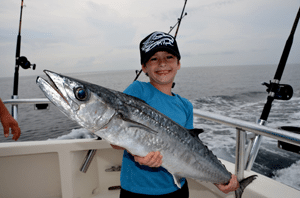 Take the family reef fishing off Orange Beach for an unforgettable adventure.
By Eileen Davis
For an outdoor family, fishing creates some of the most memorial times in a child's life. Catching a first fish, a big fish or a certain species forms an unforgettable memory. Combine this with a first camping trip to the beach and it's truly a remarkable vacation.
No summer vacation would be complete without a trip to our coast where saltwater opportunities abound. Orange Beach offers a wide variety of species and world-class fishing. And onshore, families can experience a variety of activities and attractions.
Plan to spend one of your vacation days with Captain Troy Frady of Orange Beach on his 41-foot Hatteras named Distraction. He offers families highly specialized trips for reef fish on his 41-foot Hatteras named Distraction. He goes the distance to enrich a family's time on the water.
"My focus," Frady explained, "is on people who look at fishing as an experience — a fun activity while they are on vacation. It's also educational. The deckhand shows the kids how to tie the knots and make the different rigs we fish. Both adults and children are welcome to come upstairs into the wheelhouse to drive the boat and try their hand at navigation by following a GPS course. And whenever we see wildlife, we don't pass it up; you can't assume people have seen dolphins, sea turtles, sharks and the other organisms living in our waters."
Frady promotes sustainable fish management by encouraging clients to adopt catch and release or to keep only the best fish.
This successful captain also specializes in catching reef fish higher in the water column to avoid injuries from barotrauma. He does not fish on the bottom.
"I circle an artificial reef until sonar shows fish suspended over the reef," Frady said. "I hold the boat in position and we start throwing chunks of baitfish to entice them closer to the surface. We usually don't have a problem as red snapper are aggressive feeders."
As you can imagine, catching reef fish close to surface has more advantages than the health of the fish: tangles are rare, it is not necessary to vent fish, light tackle is more fun, and the action if faster.
Frady's gear for this situation is not what you would expect.
"I have bass rods rated for 12-pound-test line," he continued, "but I do use 30-pound-test line due to the sharp teeth on reef fish. However, if the fish are skittish, I'll tie on a 10-pound-test fluorocarbon leader.
To take your family fishing with Troy Frady, telephone him at (251) 975-8111 or visit his website at www.distractioncharters.com.  
An excellent place to stay on Alabama's coast is the 6,150-acre Gulf State Park located in Gulf Shores. It has two miles of beach, a large campground, cabins, hiking trails and a fishing pier. There is also a golf course, nature center, tennis courts and a 900-acre lake. For more information on Gulf State Park, visit www.alapark.com/parks/gulf-state-park.
Read more about how successful anglers find and catch Bama's fish.