WE ARE YOUR SOURCE FOR FISHING DESTINATIONS IN ALABAMA!
Jesse Wiggins' Fall Topwater Action on Smith Lake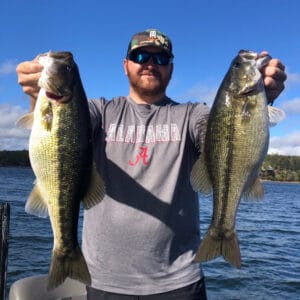 Fall is the time of the year for spotted bass to explode on topwater lures. Here is winning tournament angler Jesse Wiggins' can't fail pattern.
By Eileen Davis
In the fall, successful tournament angler Jesse Wiggins finds Smith's spotted bass on the same points where he catches them in summer, but with a change in feeding behavior.
"We usually have our first major cold front in late September or early October," Wiggins said. That triggers aggressive feeding behavior in spotted bass, and you can begin catching them during the day."
Jesse Wiggins is a Major League Fishing professional angler. Before moving to the MLF, Wiggins won three Bassmaster Opens and qualified for three Bassmaster Classics. One of those wins was on Smith Lake.
"What excites me about fall fishing," Wiggins said, "are the schooling spotted bass that are actively feeding on blueback herring and shad. When you are moving down the lake in the morning, you can actually see the fish splashing and busting the surface on points from a quarter mile away. I call them volunteers!"
POINTS
Anglers on Smith have a variety of points to fish: bluff points, short rocky points, long sandy points, shallow clay points. Every possible combination of those features can hold spotted bass.
"The crazy thing is that any type of point can hold a school of fish," Wiggins said. "You can find the schools on points 6 to 30 feet deep. While the type of point does not matter, its location is key. The area of the lake is not important, but the point must be on the main lake."
Not only can the bass be anywhere on the lake, Wiggins says the bass can be anywhere on the point.
"Most of the time in the morning," he said, "spots are going to be feeding on the surface. If the fish are not busting shad on the surface, I quickly scan the point with Lowrance ActiveTarget, which is forward scanning sonar. If the sonar does not show a school of fish, I move to the next point. It really saves a lot of time."
TACKLE
When spots are feeding on the surface, Wiggins makes long casts with a  Jackall iProp or a Rerange jerkbait. He throws the iProp on a  7-foot, 3-inch medium-action St. Croix Victory spinning rod combined with a Quantum Smoke size 30 reel spooled with 8-pound-test Seaguar Basix fluorocarbon line. For the jerkbait, Wiggins uses a 6-foot, 9-inch medium-heavy St. Croix Legend bait casting rod with a 8.1:1 gear ratio Quantum Smoke reel spooled with 12-pound-test Basix line.
"When casting to schooling fish," Wiggins said, "stay as far away from the fish as possible. Many anglers do not realize how easy it is to spook fish, especially from the water moved by their big bass boats."
PATTERN
Wiggins continued, "This topwater pattern begins in late September or early October and continues into December. When the water temperature falls below 60 degrees, spotted bass rarely feed on the surface.
"On a good day, this pattern will produce 40 to 50 fish with several quality fish weighing over 3 pounds. On a tough day, you may get 10 to 15 bites."
The best environmental conditions for fishing this pattern are wind and clouds. Unlike spotted bass on Coosa River lakes, Wiggins said Smith Lake bass are not current oriented, but wind does make a difference.
"I like a strong wind," Wiggins said. "On Smith, a 10 to 15 mph wind is not going to be rough and it helps to stage the fish on points. Also, overcast conditions improve the bite."
Read more about how successful anglers find and catch Bama's fish.