WE ARE YOUR SOURCE FOR FISHING DESTINATIONS IN ALABAMA!
Fall to Winter Fishing for Spotted Sea Trout on Mobile Bay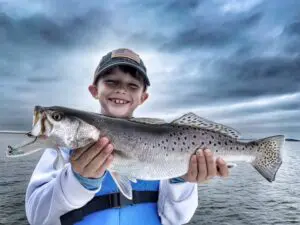 Deep holes in rivers and canals can hold aggressive trout readily willing to hit artificials. Here is what you need to know.
By Eileen Davis
Late fall weather ushers in big changes on Mobile Bay. As water temperatures continue to cool into November, spotted sea trout (speckled trout) seek the deep holes where they will winter. These deeper areas, which can vary from 10 to 40 feet deep, offer specks higher salinity, warmer water and access to forage.
When these elements come together at the right hole, fast action is sure to follow. Anglers expect to catch high numbers of fish in November and December, but often must cull many small fish. An average keeper trout weighs 2 1/2 to 3 pounds, with a big fish weighing more than 8 pounds.
Though the Mobile Bay System has many good areas to catch specks in November and December, there are four places south of Mobile that stand out. When water temperatures drop into the 60s and below, anglers find productive water in Dog and Fowl rivers, the Theodore Industrial Canal and the Bayou La Batre Channel.
Finding Spotted Sea Trout
Unfortunately, when water temperatures cool, finding and catching fish may not be as simple as jigging a lure on the bottom of a deep hole. As conditions change day-to-day and even during the day, fish may also be positioned on the edge of a hole or on adjacent grass flats.
Changing conditions — water temperature, salinity, forage and tide — keep the trout moving and anglers scratching their heads. One day the fish may be on the bottom of a deep hole, the next working the flats, or suspended off a drop-off.
If you are fishing on consecutive days, begin a new day on the water by fishing where you last caught fish. If that does not work, quickly move to an adjacent flat or to another deepwater sanctuary.
Not an early riser, no problem. One good thing about fishing for specks this time of the year is not having to be on the water early. If you have not been fishing recently, focus on deep holes first. Trout are likely to remain deep on the bottom until the sun warms the water on the surface later in the day.
Lures
Lead head jig heads rigged with soft plastic has probably caught more specks than any other artificial bait in November and December. Depending on the current and depth of water, 1/4- to 1/2-ounce jigs will handle most situations. Effective soft plastics include the C.A.L Shad Tail by D.O.A. in nite glow and Berkley Gulp! Ripple Mullet in pearl white or root beer gold with a chartreuse tail. Fish these lures on 12-pound-test line.
When these fail to produce, switch to a Tsunami Holographic Swim Shad. The lure's lifelike appearance and slower action will often entice specks to strike when the water is cold. Select swim baits and soft plastics 3 to 4 inches long.
If fish are suspended on the edge of the holes or on the flats, a silver 1/2-ounce Rat-L-Trap will quickly eliminate unproductive water. A lipless crankbait is a great locator lure. You can quickly fish an area by making long casts with a 7-foot rod spooled with braid. Use a steady retrieve. Often, specks will strike when the lure snags grass and then breaks free.
To experience great fishing for sea trout, book a guided trip with Patric Garmeson of Ugly Fishing Charters or call 251-747-1554.
Read more about how successful anglers find and catch Bama's fish.