WE ARE YOUR SOURCE FOR FISHING DESTINATIONS IN ALABAMA!
Fall Fishing for Slab Crappie on Lake Eufaula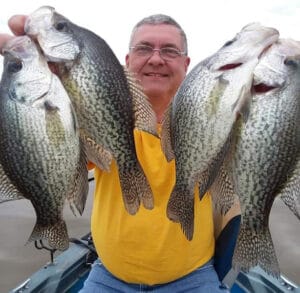 Fall crappie fishing on Lake Eufaula heats up as the water cools. Here is a look at how professional crappie guide Tony Adams catches crappie.
By Eileen Davis
Autumn is the perfect season to fish for crappie on Lake Eufaula, as it brings change to fish and fisherman. For fish, water temperatures are cooling and crappie are feeding heavily. For anglers, the lower air temperatures and humidity are a welcome relief from the long hot summer.
"By late September," said successful Eufaula guide Tony Adams, the sun travels lower on the horizon, the days are shorter, and the nights are cooler, so the water starts cooling off. When this happens, crappie begin feeding heavily to prepare for winter.
"Throughout summer, crappie hold in water 25 to 30 feet deep. But in fall, they leave deep water to feed at depths from 8 to 15 feet. This makes crappie easier to catch, so the bite is really good."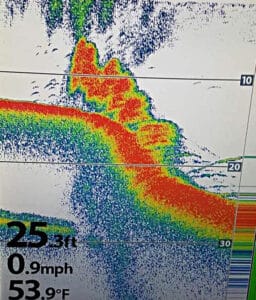 Tony Adams sinks his brush piles on features that usually already hold crappie.
FISH ATTRACTORS
Like many crappie guides, Adams has sunk thousands of brush piles to ensure his clients experience great fishing in all conditions. Over the years, he has sunk a variety of materials in Lake Eufaula to attract crappie and has settled on two types. Adams' favorite materials are bamboo or crape myrtle limbs. He sinks these in 5-gallon buckets filled with concrete.
"To make better places to fish," Adams said, "I look for natural structure to enhance and enlarge. Most of the time there are already fish on those places."
Natural underwater features where Adams places his fish attractors include creek channels, ledges, humps, points, flats and ditches. He prefers to sink fish attractors on structure that allows crappie to move vertically in the water column so they can quickly adjust to changing conditions or to feed. For example, when Adams places a brush pile that is eight feet high on the edge of a ditch six feet deep, this allow the crappie to move vertically in the water column 14 feet without swimming horizontally.
"My fish attractors usually cover half the depth of the water column," Adams said. "So if the water is 20 feet deep, the tops of my bamboo or crape myrtle limbs are 10 feet deep."
FISH BEHAVIOR
Crappie change position on cover and structure due to a variety of factors. A few that Adams follows are current, shade, temperature and baitfish.
"When there is current," Adams said, "the fish position themselves on the backside of cover. Current improves the bite. To feed, crappie move to the top of the cover and wait to ambush prey, then they drop back down.
"Even though current helps, I have caught fish on Eufaula when the water is as calm as a swimming pool.
"Most of the time crappie are going to hold on the shady side of the cover. When it's sunny in the morning, you will find the fish on the west side of the cover or structure."
As you would expect, Adams said if a strong cold front hits and the temperature in the air and water drops drastically, the fishing can suffer. "You have to put the bait in his face," he said, and wait for him to bite. The bite is really slow. After a warming trend, the fishing improves."
SIZE AND NUMBERS
During autumn, anglers have an excellent opportunity to catch big crappie.
"When it starts cooling off," Adams said, "the bigger fish start moving out of deeper water to the shallow brush piles. It's one of the best times to catch fish weighing up to 3 pounds. We have caught some that weighed 3 1/4 pounds. As far as numbers, it's not difficult to catch a limit and most will be from the size of your hand up to 2 pounds."
To catch fish, Adams uses either live bait or 1/16-ounce Eye Hole Jigs rigged with Big Bite Baits Crappie Minnrs. He prefers to use red, orange or pink colored jigs and fills the eye hole with Crappie Magnet scent bait.
For minnows, Adams ties a #4 gold Aberdeen hook to 6-pound-test high visibility monofilament line with a BB size sinker about 18 inches above the hook. This rig is fished on 10-foot B'n'M poles, models DCDT102 Duck Commander or BGIP102 Buck Graphite.
"My clients love these rods," he said. "They are the best rods I have used."
Ninety percent of the time my clients fish with minnows because they are taking their kids or grandkids fishing. They want to make a memory that will last forever."
Read more about how successful anglers find and catch Bama's fish.