WE ARE YOUR SOURCE FOR FISHING DESTINATIONS IN ALABAMA!
Fall Bass Fishing on Smith Lake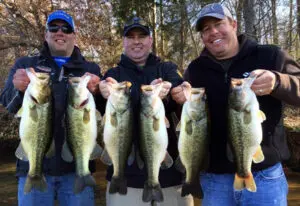 Catch spotted bass, largemouth bass and striped bass in a day of fall fishing on Smith Lake.
By Eileen Davis 
Anglers have an opportunity to catch spotted bass, largemouth bass and striped bass in a day of fall fishing on Smith Lake. While targeting schooling spots, veteran guide and winning tournament angler Brent Crow often catches strippers. And if spotted bass have lockjaw, he switches to fishing shoreline cover for largemouth.
On a good day, Crow says anglers can catch 50 to 70 spotted bass with the best five weighing more than 15 pounds. Even though Smith's abundant habitat of clear, deep water doesn't produce high numbers of largemouth, he reports it's possible to catch 10 to 15 fish, with the possibility of landing a 6 pounder. "The striped bass we catch while fishing for spots," Crow said, "weight 10 to 18 pounds. My boat record weighed 40 pounds."
Crow reports fall fishing begins on Smith when spotted bass start busting shad and herring on the surface. Topwater action can begin in late September, but last year the surface bite did not arrive until November.
"Last fall," Crow said, "fishing was a struggle. Then in November, it was like you flipped a switch and the fishing was awesome. It's a matter of being here at the right time and having the right conditions, which are wind and sun. When they come together, you can have fantastic fishing.
"The easiest way to find spotted bass is to look for schooling fish. They can have striped bass mixed in, or it can be a school of stripers. If you see them schooling, even if you don't catch fish or only catch one or two, then you know they are living there. You can return an hour later and fish with confidence that the area holds fish."
The forage determines how easy schooling fish are to catch. If the predators are feeding on blue herring they are easy to catch, but the opposite is true when they are feeding on shad.
Crow continued, "The shad measure 1 to 1 1/2 inches. You can't match a topwater lure to that size of baitfish and cast it far enough to fish effectively. A small group of spotted bass will eat the shad and then immediately return to depth. I have watched spots do this on my Garmin LiveScope. 
"It's different with herring, which are 5 to 7 inches long. When spots chase herring on top, the herring might jump out of the water three times and there is a splash every time it hits. It's harder for the bass to catch a 6-inch herring, so they have to stay in the first few feet of water column longer. This gives you more time to get a lure to them." 
Whether fishing for stripes or spots, Crow uses the same topwater lures: Heddon Super Spook, Cotton Cordell Pencil Popper, River2Sea Whopper Plopper or a Strike King KVD Sexy Dawg.
If the open water bite on the main lake doesn't produce, Crow moves to the backs of creeks to catch largemouth. "Put your boat 3 or 4 feet from the bank," Crow said, "and maneuver straight down the shoreline casting a 3/8-ounce buzzbait to exposed wood and rocks."
For more information  on attractions, events and recreation in Cullman visit www.visitcullman.org.
To learn more about Brent Crow or to book a guide trip visit www.northalabamabass.com.
Read more about how successful anglers find and catch Bama's fish.
Alabama guide and winning tournament angler Brent Crow uses his Garmin Panoptix to pinpoint the location of suspended bass and then call them up with topwaters.