WE ARE YOUR SOURCE FOR FISHING DESTINATIONS IN ALABAMA!
Dustin Connell's Top Pick for Spotted Bass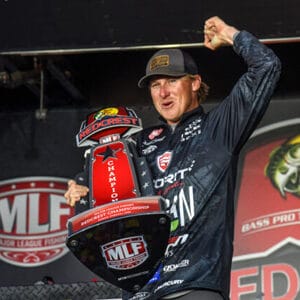 Oliver Lake on the Warrior River offers some of the best fishing in the state for trophy spots in early spring.

By Eileen Davis
"Without a doubt, Oliver is awesome," said Dustin Connell of Clanton. "My best five-fish bag of spots weighed 32 pounds. I have caught four spotted bass there weighing more than 7 pounds; the largest weighed 7.6 pounds. I believe the Warrior River holds the next state record."
Connell won Stage Three, Stage Six and Stage Seven of the 2022 Bass Pro Tour, and is the 2021 Redcrest Champion. He is also a Bassmaster Elite Series Rookie, an Elite Series Champion, and a Bassmaster Southern Open Champion. Connell is a licensed Coosa River guide.
Located from within Tuscaloosa and stretching upstream of Holt, Oliver Lake is the smallest reservoir on the Warrior River. The riverine lake is nearly nine miles long and covers approximately 800 surface acres. Due to its steep banks, access is limited to one boat ramp.
"The primary reason for excellent spotted bass fishing on Oliver is low fishing pressure," Connell explained, "It doesn't have access areas where anglers can launch a hundred boats to hold tournaments. Another factor contributing to the great fishing there is the size of the shad. They are larger than shad on the Coosa River."
According to Connell, current is essential to finding fish on Oliver. Without current, spots either scatter or suspend, so they are difficult to locate. The moving water positions fish in eddies, current breaks and creek mouths. Equally important, current stimulates spotted bass to feed.
"In March, the fish will be prespawn, and some fish will be trying to spawn or they will be holding on current breaks in the middle of the river," Connell said. "To find bedding fish, look for places out of the current with a hard bottom, which is any kind of rock. Productive areas to fish are eddies, irregular features along the bank, seawalls and creek mouths, where the water is less than 8 feet deep.
"If fish aren't in these areas, then they are in the river. Look for rock piles and high spots in the middle of the river where the spots are feeding on shad. Some of the best rock piles are very small. My big fish came off a subtle high spot in the river."
To catch bass from spawning areas, Connell relies on a 6-inch 6th Sense jerkbait that dives to 4 feet or a 1/2-ounce Davis jig rigged with a Bass Attacker Goredad. For bass feeding on shad in the river, he prefers swimbaits and spinnerbaits. Three of Connell's 7 pounders fell victim to his jig, while the other fish hit a Zara Spook in the fall of the year.
In March, Connell recommends fishing all creek mouths and the area around North River.
To book a guided day of fishing with Dustin Connell on the Coosa River, visit his website at www.dustinconnellfishing.com.
Click here to read more about how successful anglers find and catch Bama's fish.
Check out Connell's Youtube channel at DC Fishing