WE ARE YOUR SOURCE FOR FISHING DESTINATIONS IN ALABAMA!
Lake Guntersville Big Bass Fishing Tips for Late Spring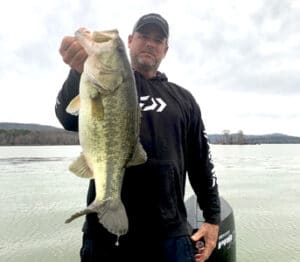 Veteran guide Tim Chandler's technique for finding and catching big largemouth bass during and after the spawn on Big G.
By Eileen Davis
Considered by many to be the top largemouth bass lake in the country, Lake Guntersville has the fertile habitat to grow not only an abundance of 5 pounders, but many big bass as well. In May, skilled anglers expect to land a few 5-pound fish on a good day, yet all the while hoping for a hawg.
"When you are catching 4 and 5 pounders from a place," pointed out veteran guide and successful tournament angler Tim Chandler of Guntersville, "you never know when that next cast is going to be an 8 pounder." No stranger to trophy bass, he considers a big bass from the lake to weigh at least 7 pounds.
"The first couple of weeks of May," Chandler explained, "anglers can catch big bass that are spawning on shallow flats. Not only are the bass spawning, but the shad are spawning as well. Shad spawn on river ledges where the grass meets open water, and they attract big fish that need to feed after leaving the beds."
Largemouth Spawn
For spawning fish, Chandler's favorite lure is a 6-inch Trick Stick, which is a soft plastic stick bait made by Big Bite Baits. He fishes the lure weightless or rigged Texas style with an 1/8-ounce sinker.     
"Often we don't put a weight on it," Chandler said, "because it is so big. The action is in the fall. So during the retrieve, lift it a few feet and then allow it to sink. When a bass strikes, it's usually a big fish."
While making fan casts, Chandler works the Trick Stick along the outer perimeter of the spawning flats. He pointed out that big fish bed a little deeper than their smaller sisters.
Shad Spawn
During the shad spawn, Chandler moves off the flats to fish river ledges. He describes a perfect ledge as having grass and a hard bottom created by shell beds. The combination appears as grass with open pockets.
"The water is dirty," Chandler said, so you can't see the open spots with the naked eye. But you can see the open spots on your electronics, and you can feel them with your lure.
To fish the ledges, the guide switches to a ¾-ounce War Eagle willow-leaf spinnerbait, which he slow rolls through vegetation 4 to 7 feet deep. "You can use a single willow leaf and increase the blade size to a number 5 or 6," he said. "Although, you are not going to catch a lot of fish with this bait, but the ones you do catch are going to be big."
"The grass is not thick in May on the ledges," Chandler said. "You want to feel the bait pull through the grass. When it pulls free, that's when the bass strikes."
It's easy for the guide to feel the lure hitting grass, as his 30-pound-test Sunline SX1 braid is tied directly to the spinnerbait.
Shad spawn at night, but remain active in the early morning. How long past dawn depends on the ambient light. On a sunny day, the spawn could die in as little as 30 minutes, or it could last for up to three hours under overcast skies.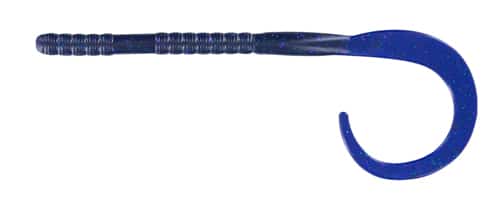 Towards the end of the shad spawn, Chandler warns that spinnerbaits are not as effective and recommends switching to a 10-inch B2 worm by Big Bite Baits. The worm has a small diameter body and a long curly tail. He fishes it Texas rigged with a 1/8- or 3/16-ounce sinker.
"The water is warming up," Chandler said and this worm produces big bass. May is in the middle of prime time fishing on Guntersville. You can catch fish on a lot of different baits, but that big worm is the ticket for big fish.
"The biggest mistake anglers make targeting big fish is sitting still too long. The more you can move around, the more cast you can make, the better chance you have of catching one."
If you are not familiar with Big G, Chandler recommends that you start your search on the flats in the Goose Pond and North Sauty areas.
For a day of guided fishing on Lake Guntersville, call Tim Chandler at (256) 655-8292 or visit his website: www.mildrillafishing.com.
Read more about how successful anglers find and catch Bama's bass.