WE ARE YOUR SOURCE FOR FISHING DESTINATIONS IN ALABAMA!
How to Catch March Bass on Lake Martin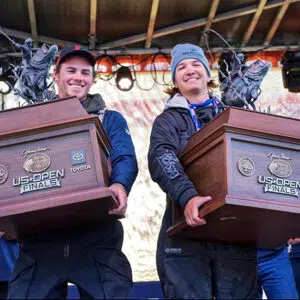 Winning tournament angler Logan Parks reveals his strategy for catching a heavy bag of largemouth and spotted bass on Martin.
By Eileen Davis
Logan Parks' strategy for winning tournaments on Lake Martin is to catch five spotted bass weighing 2 to 2 1/2 pounds each and then land at least one big largemouth to anchor his bag. In March, he targets pre-spawn and spawning fish.
Parks is a winning tournament angler and professional fisherman. While a member of Auburn University's fishing program, he and partner Tucker Smith became Carhartt Bassmaster Series Team of the year.
Parks and Smith also won the first Bass Pro Shops U.S. National Bass Fishing Amateur Team Championship, to split the biggest payout in bass fishing history: one million dollars, two Toyota Tundras, and two Nitro Z21 boats.
Lake Martin covers 39,180 acres on the Tallapoosa River with 700 miles of shoreline. The lake is a deep, clear water reservoir. The upper region of the lake is the most fertile, especially around Coley and Elkahatchee creeks.
SPOTTED BASS
"Early in March," says Parks, "look for the deeper points that are 45 to 60 feet deep in front of shallow pockets. Move to the end of the points where they drop off into the channel, then use forward looking live sonar to search for suspended fish.
"If you can find areas with a lot of bait, that is going to be your best chance of catching a big bag. The bass are eating as much as possible right before spawning. Sometimes inactive spots will sit under the bait balls. Other times, aggressive spots will be running through the bait. On the screen, it looks like a doughnut."
Parks revealed that he will run-and-gun points until he finds fish.
"Before live sonar," he said, "I would try to locate fish by casting lures across the points. Now, instead of casting blind, I am saving a lot of time by casting to individual fish."
Berkely's The Champ Minnow is Parks' go-to lure for catching spots suspended over deep points. He rigs the soft plastic on a 3/16-ounce ball head jig and throws it for distance on an ABU Garcia Zenon 7-foot, 6-inch medium action spinning rod. Also for distance, Parks spools a size 30 ABU Garcia Zenon reel with 10-pound test Fireline and an 8-pound fluorocarbon leader.
His long casts reduce the risk of spooking fish in clear water. And since spotted bass are known for following lures, the greater distance extends the time for bass to attack his swimbait.
As the water warms, Parks follows the spots to shallow water where they spawn on the same points.
"When you stop seeing spots on the end of points and water temperatures have climbed into the 60s," Parks said, "that is when it's time to go shallow on those points. Not super shallow, you will find them spawning in water 6 to 12 feet deep.
"Spots spawn in areas where the bottom transitions from rock to hard clay. Another place to look for spawning spots is docks on secondary points that lead into pockets."
In this situation, two of Parks most productive lures are jerkbaits and Neko- rigged plastic worms. The former is a 1/2-ounce Stunna and the latter is The General, both by Berkley.
To fish The General, which is a Powerbait MaxScent lure, Parks rigs it Neko style using a 1/0 or 2/0 straight shank hook and a 3/32-ounce nail weight. He inserts the hook through the "O" ring so the point of the hook is towards the weighed end of the worm. To ensure the hook remains in position, Parks also inserts the hook through the skin of the worm.
"If the point of the hook is facing away from the weighed end of the worm," Parks said, "the hook will snag in the worm when you set the hook. Also, if it's windy, increase the nail weight so it makes contact with the bottom.
"Fish the Neko rig around the docks by dragging the lure or by hopping it a couple of times and letting it fall back to the bottom. This is one of the most effective baits on Lake Martin. They hate a Neko-rigged worm."
Parks fishes his Neko rig using an ABU Garcia Zenon 6-foot, 10-inch medium-light spinning rod matched to ABU Garcia Zenon reel spooled with 10-pound-test Fireline and a 10-pound-test fluorocarbon leader.
To fish jerkbaits, his choice is the same length and action rod, but for baitcasting. He matches the rod with 6.1:1 Revo Premier reel filled with 12-pound-test Trilene 100% fluorocarbon line.
"Berkley makes the Stunna for different depths," Parks explained. "I use the deeper one that runs 6 to 10 feet deep. The jerkbait bite gets really good when it's windy. I think wind is more important than overcast conditions for fishing a jerkbait on Lake Martin."
As for the section of the lake, Parks prefers to fish mid-lake. "I like to fish the Blue Creek area," he said. It is not as dirty as the upper section and it holds a lot of fish."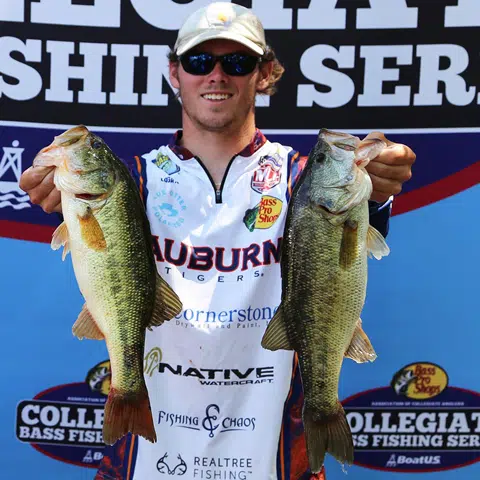 LARGEMOUTH
"In March," Parks explained, "I like to fish in the backs of creeks that have shallow floating piers with black floats. These floats warm up quickly, and largemouth like to hold near them.
"Specifically, I target those docks at the entrance to the pocket. It's the last place they move to before going to the bank to spawn. The first places to fish are those pockets on the northeast part of the lake. They are protected from cold winds and receive the rays from the sun longer, so these areas tend to warm up first."
To catch largemouth, Parks fishes docks by skipping a 3/8-ounce Berkley Skipping Jig dressed with MaxScent Chigger Craw on 17-pound-test Trilene 100% fluorocarbon line. His rod choice is an ABU Garcia Zenon 7-foot, 2-inch in a heavy action, and his reel is a Revo with an 8:1 gear ratio.
Parks concludes, "Fishing for largemouth on Lake Martin can be tough. "You have a chance of catching a big fish, but catching at least a 3 pounder is the goal.
For more information on planning a trip to Lake Martin visit their website or Facebook.
From April 1 to July 4, anglers are invited to fish on Lake Martin and take a chance at catching a tagged bass worth one million dollars or others worth $1,500, two boats, or a truck. To win, you must first register. Learn more at How To Catch The Million Dollar Bass Swimming in Lake Martin.