WE ARE YOUR SOURCE FOR FISHING DESTINATIONS IN ALABAMA!
Bass Fishing on Pickwick Lake in May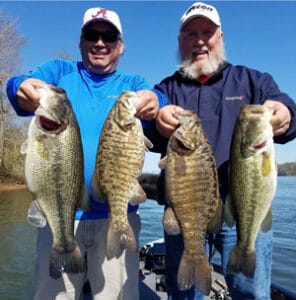 Anglers headed to Pickwick must decide which species of bass to target. Successful tournament angler and guide Brent Crow shares his tactics.
By Eileen Davis
Anglers headed to Pickwick must make a decision: fish for smallmouth near Florence or fish downstream from the Colbert County Steam Plant for largemouth.
Successful tournament angler and guide Brent Crow of Hartselle has some advice Pickwick fishermen.
"Smallmouth on Pickwick are current dependent," Crow explained. "In May, if water release rates from the Wilson Dam are 80,000 to 100,000 cubic feet per second, fish the tailrace for smallmouth. If the release rate is less than that, fish for largemouth.
"On my best day last May, my clients caught more the 40 fish in the tailrace. Our best 10 fish weighed 50 pounds and included eight smallmouth and two largemouth."
To fish the tailrace, Crow drifts from the dam to the bridge. As his boat moves with the current, he keeps the bow pointed upstream using his trolling motor.
"Stay near the edge of the current," Crow instructed, "either in the current or on the slack side and work the edge with either a swimbait or an Alabama rig."
Crow's swimbaits are 4 to 6 inches long and rigged on a jig head weighing 3/4 to 1 1/4 ounces.
He added, "Cast to stump rows and rock piles. Retrieve your lures so they tick the bottom. Do not drag your lures."
If the water release rates are low, Crow fishes downstream from the Colbert County Steam Plant.
"To target largemouth," Crow said, "look in the backs of creeks on the spawning flats and on the first point coming out of the flats in places like Bear, Indian and Panther creeks. The bays and pockets have flats with plenty of stumps and some will have hydrilla that has started to grow."
Crow searches backwater with topwater lures and swimbaits.
"My favorite lure," he revealed, "is a Strike King Sexy Dawg, which is a walk-the-dog bait. I use the bait to quickly search for postspawn bass."
When topwater baits fail, Crow switches to a swimbait, which he rigs weedless on a belly weighed hook.
Crow continued, "It's an easy bait to catch fish with, even for beginners. It's not necessary to give it any action, and you can fish it at any speed.
"Fish it over submerged grass and reel it like a buzzbait or let it go the bottom and slow roll it through the grass.
"For numbers of largemouth," he said, "May is really good. You can catch 40 to 50 fish on a good day and some will weigh 5 to 6 pounds."
For a guided day on Pickwick Lake with Brent Crow, telephone (256) 466-9965 or visit the website: www.northalabamabass.com.
Read more about how successful anglers find and catch Bama's fish.