WE ARE YOUR SOURCE FOR FISHING DESTINATIONS IN ALABAMA!
Bama's Winter Nearshore Redfish Action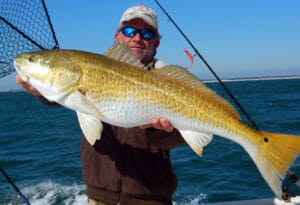 Where to find nearshore action for 20- to 30-pound redfish with crankbaits and topwater lures.
by Eileen Davis
On the coast, Captain Don McPherson of Orange Beach spends his winter mostly guiding anglers for 20- to 30-pound bull reds. The fishing starts in late October and runs into April, but McPherson says fishing improves with colder weather.
"It's a natural setup for winter fishing," McPherson explained, "as all the ingredients come together to form this great fishery. Huge schools of red minnows (blood minnows) and menhaden (pogies) move into the area and close to shore followed by schools of bull reds. When the reds arrive, they stay through early April. Plus, we often have a north wind, which creates calm seas off the beach.
"Lastly, we catch these big fish from shallow water, so when released, their survival rate is excellent."
McPherson says most clients know about tailing redfish in the shallows but are often unfamiliar with the redfish he targets near the beach. In fact, they are two different groups of redfish. Young fish grow in the marshes, small lakes and bays for about five years before moving into open water. The former group may weigh up to 12 pounds, while the latter has the potential to reach 60 pounds. Al Mead of Theodore caught the current state record in 2013. It weighed 45 pounds, 9 ounces.
By any measure, conservation is having a positive impact on this fishery. Alabama's creel limit is three fish per person in the 16- to 26-inch slot, one of which may be over 26 inches. Anglers fishing with McPherson will not catch slot fish.
On a typical trip out of Orange Beach on the Getaway, McPherson's deckhand deploys lines within 20 minutes of leaving the dock. 
"That's another great thing about fishing in winter," said the Captain. "Anglers don't have a run time of an hour or more to the fish. Once we leave Perdido Pass, we usually set the lines out.
Lures
"Often we troll a spread of four or five lures at about 5 knots. We pull Mann's Stretch 20+, 25+ and 30+ deep-diving baits to search the water column. We also troll Clark spoons behind a No. 2 or No. 3 planner."
The skipper trolls the lures in water 15 to 35 feet deep, which is just outside the second sandbar off the beach to 1 ½-miles offshore.
"Trolling is always a sure bet," revealed McPherson, "but ideally, we want to find baitfish and cast to them with light tackle. If we see gulls diving while we are trolling, often we reel in the trolling baits and switch to light tackle for fishing the school.
"It's exciting anytime you hook a big red, but there's nothing like seeing a 20- to 30-pound redfish explode on a topwater lure."
While watching your lure get hammered by one of these bullies is something you'll never forget, it doesn't happen every time out. Only aggressive bulls will inhale a topwater lure. When it does happen, the skipper recommends using a popper.
For those times when reds have not churned the surface to white foam, McPherson advises anglers to use 3- to 6-inch curly-tailed jigs weighing 1 to 2 ounces. Work these through the schools from the bottom to just below the surface.
To fish the clean sand bottom, reels on the Getaway are spooled with 30-pound-test monofilament for trolling and 20-pound test for casting.
To book a trip with Captain McPherson on his 36-foot Hatteras, call him at (251) 981-8047 or visit www.getawaycharters.com.

Read more about how successful anglers find and catch Bama's fish.
Enjoy fishing for big bull redfish nearshore just off the beaches of Gulf Shores and Orange Beach, Al. We are having a blast fishing for 20 to 30 pound fish with light spinning tackle. Bring your flyfishing rod.