WE ARE YOUR SOURCE FOR FISHING DESTINATIONS IN ALABAMA!
A Winning Pattern for Lake Eufaula's Bass in Spring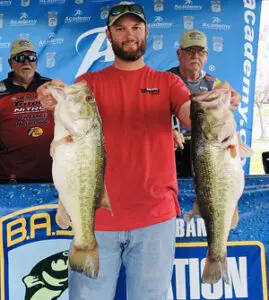 Shane Powell's pattern for catching Lake Eufaula's largemouth bass in spring produces winning weights of nearly 30 pounds.

By Eileen Davis
"In spring," reports Shane Powell, "Lake Eufaula is one of the best lakes in the state to fish for largemouth."
Powell should know, as he is the angler to beat on Lake Eufaula. Last year, the angler from Dothan won four major tournaments on Eufaula, including the Alabama B.A.S.S. Nation (ABN) tournament in March with 29.6 pounds.
To win tournaments in March, Powell targets prespawn largemouth holding on submerged brush piles at depths of 8 to 12 feet over a firm bottom just off the main lake. He said 10 feet is the magic depth.
"Big females stage in the brush piles adjacent to spawning areas," Powell said, "and then move up to spawn when conditions are perfect. I don't think they stay but a couple of days before moving back to the brush piles.
"The brush piles are also the place to find fish after a cold front. The fishing is not quite as good, but you will catch quality fish. Slow down after a cold front, they don't leave."
Only certain brush piles attract fish.
"Nearly every primary and secondary point will have brush," Powell said. "The more productive brush piles are recent, perhaps even still holding leaves; old brush looks like a lump on sonar. Also, brush that is isolated and not obvious is more likely to hold big fish. During a tournament, a brush pile on an obvious point might get hit six times a day."
Tournament anglers and guides replenish bush piles annually and many prefer hardwood to evergreens. Powell recommends looking for brush piles on the lower end of the lake on the east side from Sandy Creek down to the dam. He says water visibility increases closer to the dam, and the area has plenty of protected sloughs with sandy bottoms.
"My first cast to the brush pile is with either a Big Bite Kicker swimbait or a 1/2-ounce War Eagle spinnerbait with a Colorado and willow-leaf combination," said Powell. "These lures will catch the bigger fish, as well as aggressive fish. Retrieve the lures so they just tick the top of the brush. You don't want to dig down in the brush pile.
"That is the primary pattern for catching bass on Eufaula in spring. It's what I am doing 90% of the time.
Read more about how successful anglers find and catch Bama's fish.
Check out this video of Powell discussing how the team won the ABT on Lake Eufaula in June 2020.